Changes In Dairy Industry Spur Farmers To Pursue Novel Business Strategies
Wisconsin's Family Farms Develop New Products, Seek Different Customers As Consolidation Proceeds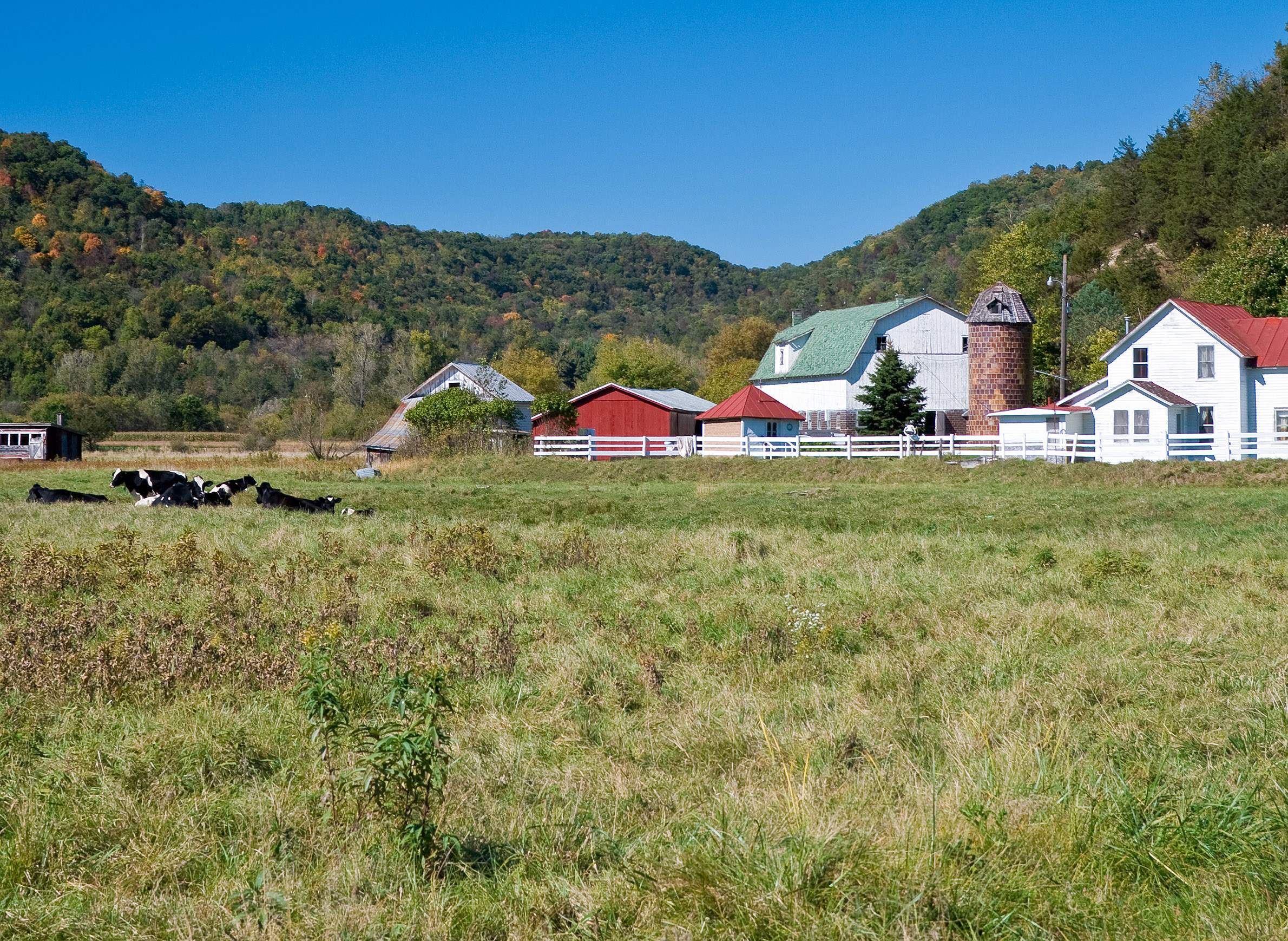 On average, each milk cow in Wisconsin produces around 2,000 pounds of milk a month. To be more precise, that's over the first half of 2018, and nearly double the average amount of milk produced by a Wisconsin cow in 1980. Total milk production in Wisconsin is up, too – from 22.38 billion pounds produced in 1980 to 30.32 billion pounds in 2017, as documented by the U.S. Department of Agriculture's National Agricultural Statistics Service.
On the surface, these numbers seem to reflect a growing industry. Indeed, improvements in technology has led to greater milk production over the past several decades. But for many dairy farmers, the story isn't necessarily positive.
Although more milk is being produced year after year, more often than not, the structure of the dairy industry is undergoing a profound shift.
For starters, dairy farms are growing larger, and consolidated operations are outpacing the smaller, family-owned businesses that have long comprised the backbone of the industry in Wisconsin. As the average size of cow herds in Wisconsin has grown, their number has dropped – from 15,550 in June of 2004 to 8,517 in June 2018.
Meanwhile, the price of milk has also dropped over the past several years, putting increased pressures on smaller dairy farms already on the economic edge. At the same time, issues like trade disputes can compound the financial stress. Neither of these issues are new, though, and the federal government has implemented various price support policies for decades to keep up with hanging conditions.
In other words, more dairy farms are making less money, and more are closing as a result.
The number of dairy cooperatives based in Wisconsin is decreasing, too. According to data provided by the USDA's Rural Business-Cooperative Service, there were 109 dairy cooperatives headquartered in the state in 1976, compared to just 19 in 2016. While this contraction reflects mergers among cooperatives, the shift also indicate that there are fewer outlets for dairy farmers to sell their milk in the 2010s than there were decades before.
Cooperatives, which process and sell milk for its members, play an important role in the dairy industry. Without them, many dairy farmers would be unable to sell their milk as easily, as they arrange for the sale of milk and provide marketing, milk testing, health insurance and other services. As a result, a wave of mergers and closures in recent years have become troublesome to many farmers.
As these trends have taken shape, an increasing number of dairy farmers are adopting new sales practices, or are entirely shifting the focus of their business to keep themselves afloat and making money.
Repurposing the dairy farm
As milk prices drop, Wisconsin's dairy farmers can entirely repurposing their farms through their cows or the land itself. It's not a new strategy.
For the third generation of farmers operating Schott Family Farm, a beef outfit in Viroqua, they have found success in marketing and selling to consumers through farmers' markets, as well as directly through promotion via website, social media, newspaper ads and word-of-mouth.
"I envisioned having monthly drop offs. So, people could place orders online, and we would get their package ready and deliver it to a set location within the area once a month or every two weeks," said Labecca Schott, who runs the farm with her husband and in-laws. "I enjoy working with community to educate them on the differences between our meat and what you'd buy at the store."
Schott said that prior to her family farm focusing on selling beef directly to consumers, it used to be a dairy farm. The decision to sell off their dairy cows and switch to beef was made decades ago by her husband when his family faced a struggling dairy operation.
"Beef farming is an avenue that allows people to have off-farm jobs, because it's not as demanding as dairy farming when you have to be there two or three times a day," Schott said. "That's why he made the decision."
For many dairy farmers, finding an off-farm job has become a necessary option.
"I've known too many dairy farmers that have chosen to sell the cows and find an off-farm job," said Schott. "As a farmer you hate to do that. But as a family, you need to have a consistent paycheck and the means to provide for my family."
Mark Stephenson, director of dairy policy analysis for the Program on Dairy Markets & Policy and the University of Wisconsin Center for Dairy Profitability at UW-Madison, said that many farmers in the state have sold their cows, but they might continue to use their land for farming other crops as a source for consistent employment and income.
And many dairy farmers have decided to exit the industry entirely.
"At this point in time, a lot of people borrow against the equity in the business," said Stephenson. "And we have a lot of folks who are at a stage in life and say, 'Why should I mortgage my retirement just to keep milking cows for another year or two so that I can then sell the operation?'"
The growth of direct-to-consumer practices and value-added processing
Rather than finding another milk buyer after their cooperative merged with another or closed, some dairy farmers have chosen to entirely eliminate the middleman and market their products directly to consumers.
"Joining a new cooperative may also mean that you're having to invest in equity in that co-op, and farms don't like doing that. Nobody does," said Stephenson. "It's necessary, and we all understand why. But at a time of low prices, that's a difficult thing to do."
In search of other opportunities, more farmers are turning to direct-to-consumer practices like farmers' markets, community supported agriculture programs, or selling their products directly (such as the "pizza farm" concept).
Direct sales strategies have grown in recent years. Farmers' markets are on the rise across the United States, as well as within Wisconsin. The breadth of these new marketing approaches is reflected in the USDA's Local Food Directories, a national database of farmers markets, on-farm markets, CSAs and food hubs, where consumers can find local food sold directly from local farmers.
Dairy farmers have moved toward diversifying their business and even expanding the scope of their operations, by producing and selling other milk-based products like cheese or ice cream.
As described by Stephenson, this practice of value-added processing has been used by dairy farms for the last 10 to 15 years. And while some have been successful in this practice, Stephenson does not encourage farmers to undertake this large of a transformation.
A 2007 report on value-added processing co-authored by Stephenson found that "despite much higher revenues per unit milk produced or processed, mean net income for the processing enterprise and for the combined milk production and processing business were modest at best and often negative."
Moreover, at a time when the cost of farming is increasing in Wisconsin — up six percent from 2016 to 2017 — implementing an entirely new or repurposed type of operation could be even more costly. One state program, however, assists farmers in starting a new or repurposed business.
"It's expensive to invest in processing equipment, and you have to think about what skills you as a good dairyman have that's transferable to this whole new business," Stephenson said. "Managing cows doesn't mean you're going to be good at making cheese and marketing that product."
Julie Grace was an intern with WisContext in the summer of 2018 and worked with Wisconsin Public Television through the O'Brien Fellowship in Public Service Journalism at Marquette University.
This report was produced in a partnership between PBS Wisconsin and Wisconsin Public Radio. © Copyright 2023, Wisconsin Educational Communications Board and the University of Wisconsin-Madison.