Following Wisconsin's High-Speed Rail Funding Down The Tracks
A Look At What Happened To Federal Money For Transportation Infrastructure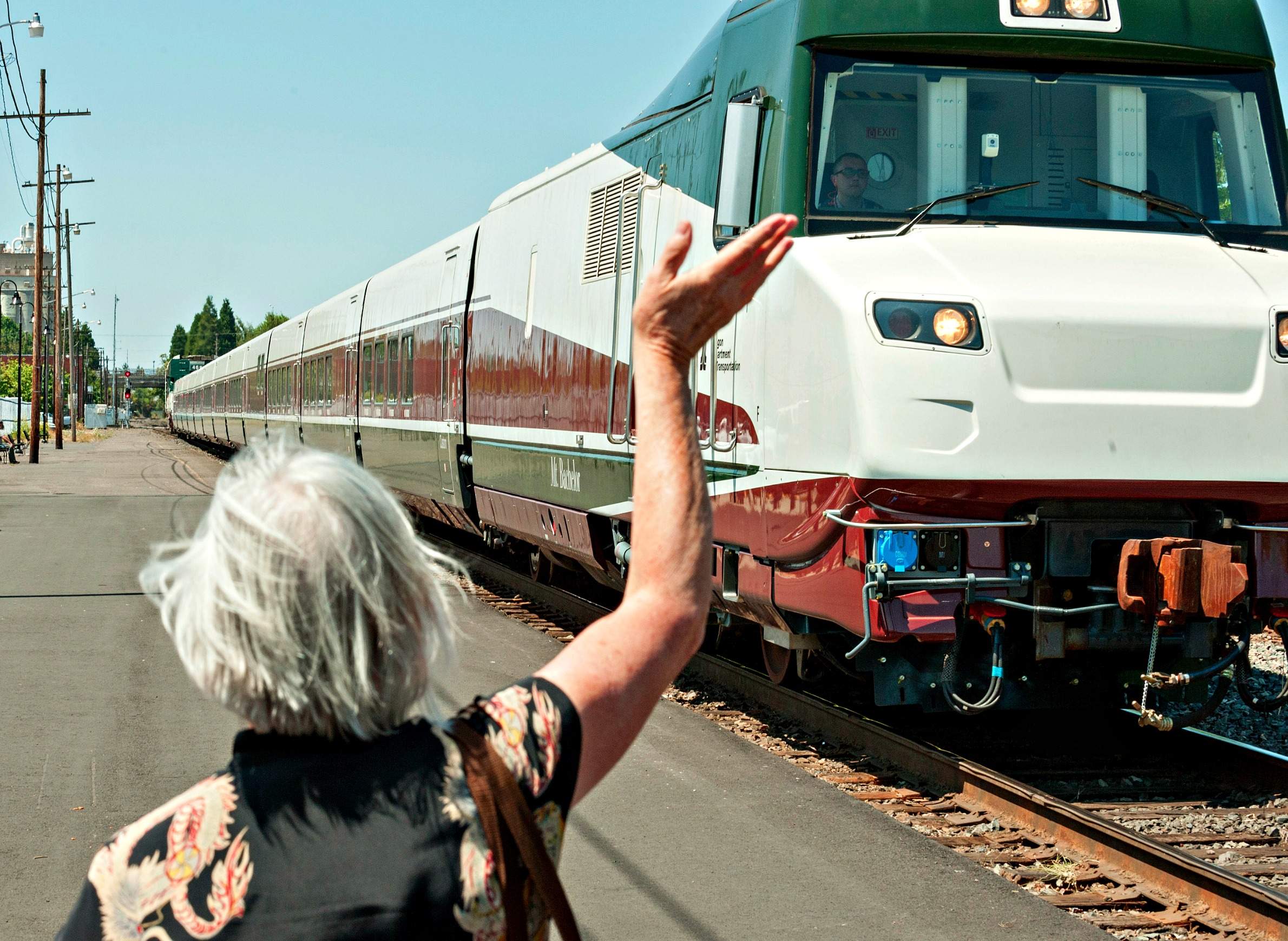 The state of Wisconsin keeps on paying for trains that aren't running in, to or from any of its communities. In August, the state reached a $9.7 million settlement with Spanish train manufacturer Talgo over two new sets of rail cars. These Talgo 8 trains were originally intended for Amtrak's Hiawatha line between Milwaukee and Chicago, but instead ended up in the Pacific Northwest.
Wisconsin taxpayers previously spent $42 million on these trains before the train manufacturer sued the state in 2012. That puts total costs for this particular rail project about 10 percent higher than the $47.5 million price tag, funded through state bonds, set by Talgo in its initial 2009 no-bid contract with Wisconsin's then-Gov. Jim Doyle.
Under the settlement, the company will keep the two disputed Talgo 8 train sets it built for the Hiawatha line. This model, made in Milwaukee until the company closed up shop there, made its debut year on Amtrak's Cascades line, which runs between Eugene, Oregon, and Vancouver, British Columbia, Canada.
A company brochure for Talgo 8 highlights features like wheelchair-accessible restrooms, ergonomic seating, panoramic windows and optional add-ons, including a baggage car with bike racks. The cars are designed to handle speeds of up to 125 mph, though both Amtrak lines currently operate at much lower speeds. (There's no word on whether they'll retain their planned Badgers-friendly color scheme.)
Wisconsin might be able to cut its losses a little. The settlement entitles the state to a portion of the proceeds, capped at the $9.7. million figure, when Talgo eventually re-sells the two train sets. But a Talgo spokesperson told the Milwaukee Business Journal that the company is having a hard time finding a buyer.
State financial officials, meanwhile, are still determining how to deal with bonds that represent the purchase of something the state is still paying interest on but no longer owns.
Understanding the politics of rail funding
The chapter is the latest in a now-familiar story of passenger rail investments being diverted from Wisconsin. In 2010, Gov. Scott Walker rejected $810 million for a Madison-to-Milwaukee line, which was part of the Obama administration's nationwide, $10.1 billion push to invest in high-speed passenger rail. Named the High Speed Intercity Passenger Rail plan, it is run by the Federal Railroad Administration and largely funded through the American Reinvestment and Recovery Act of 2009, better known as the stimulus package.
During the 2010 Republican gubernatorial primary, Walker proposed to instead spend that money on Wisconsin's roads, while his opponent, East Troy businessman and former U.S. Rep. Mark Neumann, told supporters that he'd use it for tax cuts. However, a 2010 segment on Wisconsin Public Television's Here And Now reported that states can't actually do that under ARRA.
The notion this rail money might instead go to other states made a handy rhetorical tool for Walker's critics: Milwaukee Mayor Tom Barrett, his Democratic gubernatorial opponent in 2010, declared that Californians and Floridians would "have a merry Christmas" because of it. (As it turned out, Barrett spoke too soon about the Florida part.)
Both Walker and Neumann said during the primary that they hoped for more flexibility from a GOP-led Congress. Republicans did win the majority in the U.S. House in 2010, in the same election that swept Walker and several other tea party-backed governors into office.
After taking his seat as governor, though, Walker didn't get the flexibility that he'd hoped for. Then-U.S. Secretary of Transportation Ray LaHood divided Wisconsin's rejected rail money, and a similar $400 million grant that Ohio Gov. John Kasich declined, along with projects in other states. One was Florida, where Gov. Rick Scott in turn subsequently rejected $2.4 billion in ARRA rail funding.
When making these decisions in late 2010 and 2011, Walker, Kasich and Scott were all newly elected governors riding the wave of conservative backlash to the Obama administration. All three argued that despite the federal investment, high-speed rail would run up costs for the states. At the time, governor-elect Walker said he pulled the plug on the Madison-to-Milwaukee line because, "[t]he bottom line is, right now, I've seen no scenario where the taxpayers of the state of Wisconsin aren't gonna be on the hook for millions of dollars."
The plan to put upgraded trains on the Milwaukee-to-Chicago Hiawatha line unraveled a bit more gradually: The state Legislature's Joint Finance Committee voted in March 2011 not to borrow additional funds to plan for a new maintenance base for the new trains. From there, as the Milwaukee Journal Sentinel recounted, the Wisconsin Department of Transportation said it wouldn't be able to use the trains. This led to a failed mediation process, after which the two parties openly traded accusations in the press, with Talgo's CEO saying that the state didn't honor its contracts and a DOT spokesperson saying the company's train cars "do not even meet basic federal standards." In November 2012, Talgo, still seeking further payments from the state, went to court.
Where federal rail money goes
Tracking what happened to the federal dollars rejected by Wisconsin, Ohio and Florida is a complicated matter. Before later refusing the funding under new governors, all three states had started spending their award money — Wisconsin put nearly $14.8 million into design and engineering work under Doyle, Florida spent about $31.9 million on similar preliminary work under former Gov. Charlie Crist, and Ohio spent about $15 million under Gov. Ted Strickland. And shortly after Florida pulled the plug on its rail project, Congress cut $400 million from its program, so only $2 billion of Florida's $2.4 billion actually went back into the High Speed Intercity Passenger Rail funding pot.
The High Speed Intercity Passenger Rail program page lists dozens of projects that have been funded under the initiative, from $4.2 billion for construction and related projects in California to smaller-scale infrastructure improvements and studies elsewhere around the country. Complicating the matter, Wisconsin and Ohio rejected their funding first, and some of these monies were for a brief time redesignated for Florida, until that state's rejection became official a couple of months later. The Tampa Bay Times reported in 2011 that some of Florida's money would be split into $795 million to speed up trains in the northeastern U.S. and $196 million to do the same between Chicago and Detroit.
Lastly, the high-speed rail program works on a reimbursement basis. Instead of getting this money in one big chunk, states pay for parts of the project as they go and then ask the federal government for reimbursement. Wisconsin and Florida took federal reimbursements for the preliminary rail planning they conducted, but Ohio didn't.
Accounting for these fiscal twists and turns, then, these three states together passed on a total of about $3.16 billion in rail money. That's nearly one-third of the federal government's total investment in high-speed passenger rail. The way this money subsequently scattered, in chunks big and small, is far more complex than Barrett's narrative of Californians benefiting at Wisconsinites' expense. In aggregate, these states' decisions have made a huge difference in the amount of money available for other states' high-speed rail projects.
There's also more to this issue than three governors making their political mark. Several commentators have argued that President Obama stumbled in rolling out his plan and selling it to the public. As the New York Times pointed out in a 2011 analysis, Obama made the Florida rail line between Tampa and Orlando the poster child for this initiative. But both cities are heavily car-dependent, making them potentially inconvenient for arriving passengers. They are also already relatively close together, making the train trip only slightly faster than driving.
And Amtrak, a for-profit corporation that receives a federal subsidy and whose lines often are a focus of High Speed Intercity Passenger Rail-funded initiatives, consistently loses money and struggles to keep pace with passenger rail service in other industrialized nations. So beaten-down is Amtrak's public image that a 2015 National Journal article on the company begins with president and CEO Joseph Boardman literally crying.
Whether it's the American affinity for cars, the lack of density in most parts of the country, the finer details of how Obama has pursued the project as a chief executive and politician, or other difficulties, none of the High Speed Intercity Passenger Rail-funded projects are up and running yet. California began construction in January 2015 on a high-speed line between Los Angeles and San Francisco, but that project is behind schedule and not yet fully funded.
Editor's note: Parth Shah contributed reporting for this article.
This report was produced in a partnership between PBS Wisconsin and Wisconsin Public Radio. © Copyright 2023, Wisconsin Educational Communications Board and the University of Wisconsin-Madison.