Garden Program Grows Youth Entrepreneurship In Brown County
Farmers' Market Teaches Teens Life Skills, Boosts Local Food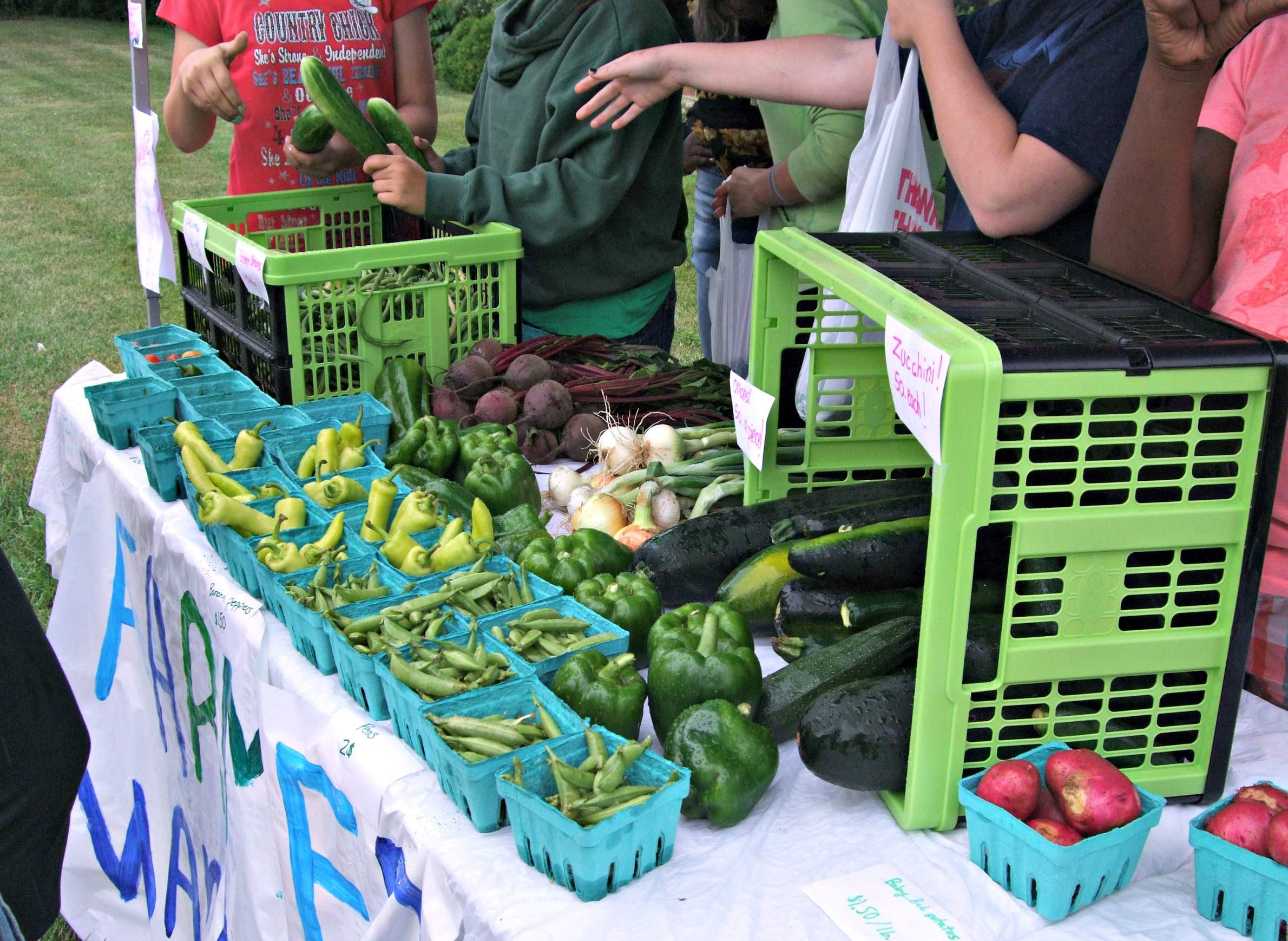 While overall unemployment rates have gradually decreased since the peak of the Great Recession, youth summer labor force participation has yet to rebound significantly. In fact, the U.S. Bureau of Labor Statistics reports that since reaching a record high of 77.5 percent in July 1989, labor force participation rates for youth (defined as 16-to-24-year-olds) have trended downward, reaching a low of 59.5 percent in July 2011, and only increasing slightly to 60.1 percent in July 2016.
Recent studies show that effects of this decreased labor force participation rate could be long-lasting. According to a 2014 publication from the Brookings Institution, teen employment may have a positive correlation to employment and earnings throughout adulthood. This current decrease in employment among youth may therefore create enduring barriers to long-term success.
In northeastern Wisconsin, the 2011 Brown County Leading Indicators for Excellence (LIFE) Study identified retaining young professionals as a top regional concern. Research shows young people currently stay in the area for higher education, but then leave for larger cities. Therefore, county leadership actively seeks ways to foster local entrepreneurship among area youth. This concern exists not only in Brown County, but across Wisconsin as well, with many cities reporting that young professionals leave for employment opportunities in other states.
In recognition of these concerning national and local trends, as well as to fill an identified gardening programming gap for teens and "tweens," the Brown County UW-Extension Community Gardens Program partnered with the Boys & Girls Club of Green Bay to pilot a youth farmers' market program in the summer of 2016. Participants gained multidisciplinary life and job skills, including business, marketing, customer service, nutrition and horticulture experience through running their own farmers' market stall. By offering participants an opportunity to gain hands-on local work experience, the program intends to better position youth for lifelong success in Brown County.
Beginning in June, students met for weekly sessions with UW-Extension and Boys & Girls Club staff. In the program's first session, participants planted their own garden plot, which they then maintained over the course of the program. Students gained hands-on experience planting, weeding, watering and harvesting produce, and also learned organic pest management skills through a session with UW-Extension Brown County horticulture educator Vijai Pandian.
In classroom sessions, participants explored additional topics, including good nutrition, the importance of local food and marketing strategies. UW-Extension family living educator Judy Knudsen also led a session on financial management, teaching much-needed skills to address the concerning financial literacy rates among teens in the U.S.
Through the program, students participated in field trips to provide a larger community context alongside onsite programming. Participants toured Twin Elm Gardens, a farm near Pulaski with a community-supported agriculture program, and an area farmers' market, where they interviewed vendors on best practices for running a market stall.
In late July and early August, the program culminated with students holding two of their own farmers' markets outside the Boys & Girls Club of Green Bay's west-side location. Teens prepared and then sold a variety of produce from their own garden plot, supplemented by donations from local growers, to area residents. This provided the extra benefit of offering fresh produce to neighbors in a USDA-recognized food desert. With the over $200 raised through these two markets, students then traveled to Troy Gardens on the north side of Madison, where they spent the day touring the gardens and adjoining farm, as well as their apiary.
Every participant expressed interest in working with the program again, and many identified the hands-on vending experience as its most impactful element. In addition to garden experience, these teens developed valuable skills in financial literacy, public speaking and problem-solving, and increased their self-confidence, attitude toward healthy eating and appreciation for locally sourced organic produce.
The Brown County Community Gardens Program plans to offer an expanded youth farmers' market in 2017, with increased programming and an added salsa-making component. Through these opportunities to gain hands-on work experience, the program hopes to help area teens build the skills needed to position them, and Brown County, for future health and success.
Margaret Franchino is the community garden coordinator for University of Wisconsin-Extension Brown County.
This report was produced in a partnership between PBS Wisconsin and Wisconsin Public Radio. © Copyright 2023, Wisconsin Educational Communications Board and the University of Wisconsin-Madison.