The Past, Present And Future Of Phelps, Wisconsin
University Place: A Rural Tourism Community in Northern Wisconsin Looks To Rebuild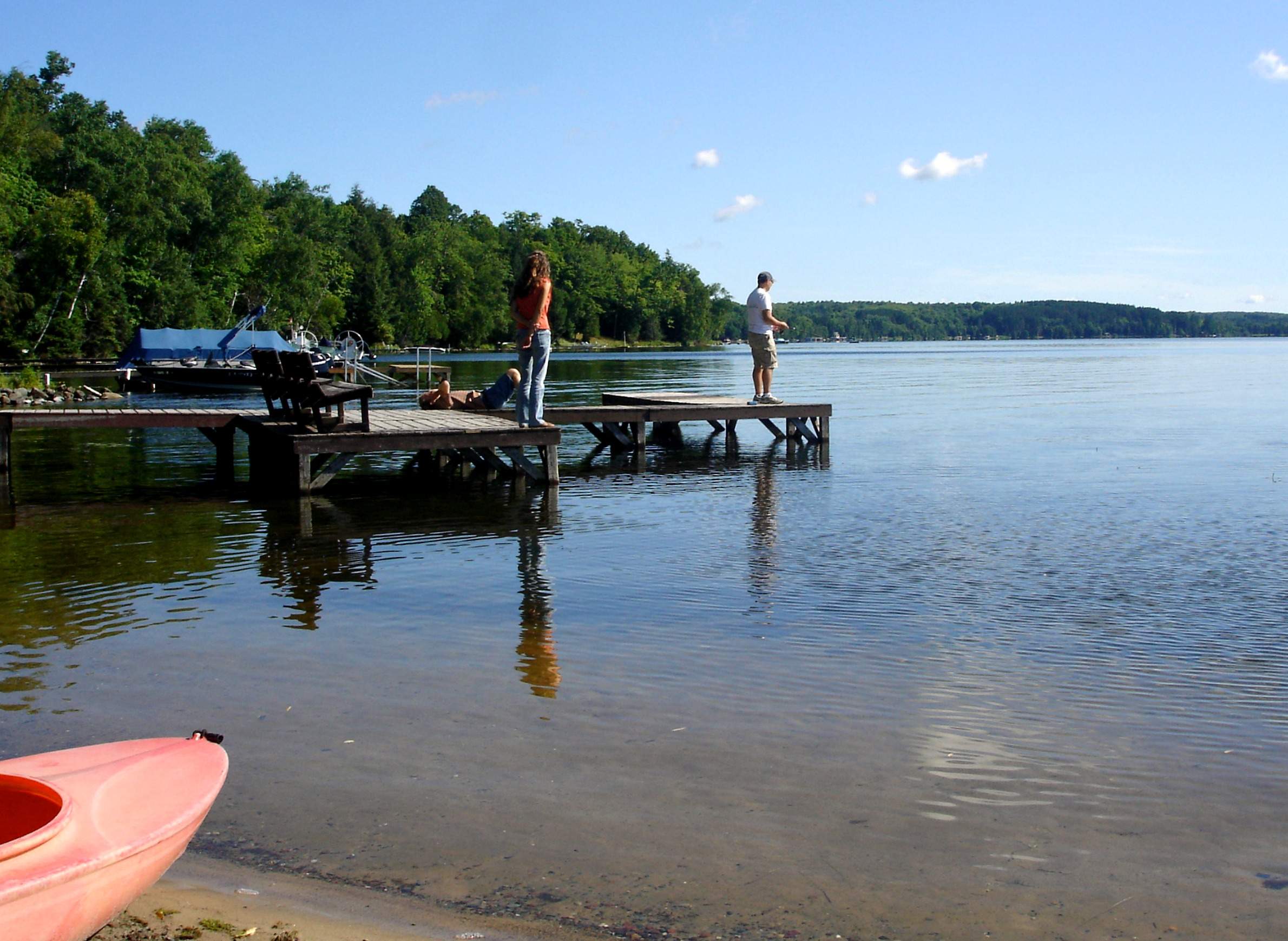 Spanning the border between Wisconsin and the Upper Peninsula of Michigan is a smallish lake, located right where the state line hooks south. Named Lac Vieux Desert, it's the headwaters of the Wisconsin River, which flows more than 400 miles before feeding into the Mississippi. On the lake's southern shore is the town of Phelps, a rural community that encompasses a sizeable portion of eastern Vilas County and includes a healthy northwestern slice of the Nicolet National Forest.
Phelps is geographically big, encompassing more than 90 square miles of land — an area just slightly smaller than Milwaukee. But Phelps is small in terms of population, with 1,200 people counted in the 2010 census. Many of its residents live in homes and cabins clustered around several lakes, including Lac Vieux Desert, Long Lake, Big Sand Lake and much of North Twin Lake. The community is situated near the edge of Wisconsin's waters-and-woods tourism region centered in Oneida and Vilas counties, with resorts, lodges and seasonal residences buzzing in the summer and sometimes during the hunting and snowy seasons.
At the east end of North Twin Lake is cluster of development that includes a post office, fire station and town hall, a couple of churches, the Phelps pre-K-12 school, the Phelps Historical Museum, a handful of private homes and several commercial buildings. Residents refer to this unincorporated community as downtown Phelps. There has been longstanding concern in the area that it is in decline, particularly with regards to retail and other business opportunities, and the shopping and jobs that come with them. As is the case across much of rural Wisconsin, particularly in its north, the town of Phelps is aging, and many residents are worried that the community peaked long ago.
Christopher Stark is a community resource development educator for the University of Wisconsin-Extension Vilas County. At the request of town and county leaders, he convened a campaign to explore what could be done to revitalize downtown Phelps. In the course of his work, Stark interviewed a group of town residents, investigating their perceptions about the community and desires for change.
On January 6, 2015, at a meeting of the Vilas Vision Leadership Program, Stark presented his research in a talk recorded for Wisconsin Public Television's University Place. He shared insights into the history of Phelps since its founding more than a century ago, detailed the town's demographic and economic swings, and noted its potential to develop culinary tourism opportunities and cater to tourists seeking out trails for bicycles, ATVs and snowmobiles.
The town of Phelps is currently considering multiple economic development avenues, and is among several northern Wisconsin communities seeking to host a relocated headquaters for the Department of Natural Resources state forestry headquarters.
Key facts
Phelps was originally called Hackley for the first few years after its founding. (As detailed by the Phelps Chamber of Commerce, these names came from Charles Hackley and William Phelps, who were two of the founders of the Thompson & Bonnel Lumber Company. This business was incorporated in 1896 and renamed the Wisconsin Lumber & Bark Company in 1901.)


The population of Phelps has fluctuated through the century since its founding. In the 1910 Census, its population was 864. That figure increased to above 1,200 over the following two decades, before making its biggest increase between 1930 and 1940. During the Great Depression, the population of Phelps grew from 1,238 to 1,614, an increase of 30 percent. These numbers fell over the next few decades, decreasing to 876 by 1970, a drop attributed to a declining timber industry and the 1957 closing of the town's sawmill. The population expanded anew over the next three decades to 1,350, growth attributed in part to an influx of retirees. But that figure dropped once again by 2010 with the town settling to a population of 1,200.


The timber industry was the economic engine of Phelps in its first half-century of existence, with the town's sawmill serving as a primary employer in the community. The vacation industry has been integral to Phelps for many decades since, with historic lodges dotting the town's lakes and seasonal businesses serving short-term tourists and non-resident property owners. (A 2013 episode of the television program Discover Wisconsin described Phelps as a "hidden gem" and promoted the community as a destination for visitors on a year-round basis.)


The average age of Phelps' population in 2010 was 55.4, with that figure increasing in the ensuing years.


In 2010, 1.4 percent of all retail economic activity in Vilas County occurred in Phelps, even though the town accounts for 5.6 percent of the county's overall population.


In 2012, a nursing home in Phelps closed, taking with it 76 jobs. A bank closing followed, leaving a post office and seven businesses (not all open on a full-time basis) in the town's unincorporated downtown.


When asked in late 2012 about what they thought Phelps required in terms of businesses, a cohort of 42 town residents overwhelmingly suggested a grocery store to eliminate the need to drive to Eagle River (or Land O' Lakes and Iron River, Michigan) to shop for food. Out of this group, 38 pointed to their interest in a grocery store, versus 28 for a hardware store and five for a pharmacy.


In January 2015, about 200 people attended a community listening session in Phelps to discuss the future of its downtown area. The group discussed getting involved in the Connect Communities program organized by the Wisconsin Economic Development Corporation, creating a grocery store task force and developing a tourism strategy with local lodge owners. (The Phelps Chamber of Commerce published a detailed recap of this meeting.)
Key quotes
Stark on the industrial history of Phelps: "This community has lived and died with the lumber mill. Lumbering was everything up here in Phelps."


Stark on a relatively recent demographic shift in Phelps: "Now most of the population is much older than it used to be. ... These are people moving up here that no longer have kids, and it's a big concern to the school district here in Phelps which is, I'm told, at least tied for the smallest school district in the state — K-12 approximately 134-144 students. So you do the math."


Stark on the symbolic significance of an abandoned structure known as the "Big Store," which was demolished in June 2015: "[I] felt that the whole psychology of the community would improve if we could actually tear down the Big Store. This was not a news flash to anybody in Phelps. I think they all agreed, but this was the first time they heard it from somebody outside the community."


Stark on asking community members about what year they thought Phelps was at its peak: "This question was totally unnecessary — I didn't have to ask it all. I just wanted to know what people thought of their community, what the Phelps residents thought of their town. And the extreme answers when I asked this — 'What year was Phelps at its peak?' — ranged from the 1920s to the present. Somebody had the nerve to say the present when I asked that question. But the average of those I asked it ... was 1967. So you see that they believe the peak of their community, there was a sense that it was in the past."


Stark on community members' interest in carpentry: "Apparently everybody in the community is a carpenter. But also that speaks to the employment statistics [that] will bear that out, the Census statistics, because those involved in the building industry is twice as high in the state average in Wisconsin. ... [That's] because of our lumber yes, but seasonal homeowners especially. They have a lot, in many cases, bring in a lot more income, and they always want an addition put on."


Stark on using data to identify locations to target for tourism marketing: "Just something like collecting zip code statistics would tell us where are these tourists coming from, and then we can get information on where we can target. Should we target our efforts to Chicago? Should we target them to Milwaukee? Maybe all of the above."
This report was produced in a partnership between PBS Wisconsin and Wisconsin Public Radio. © Copyright 2023, Wisconsin Educational Communications Board and the University of Wisconsin-Madison.