Where Cows and Deer Outnumber People In Wisconsin
A Badger State Approach to Rural Identity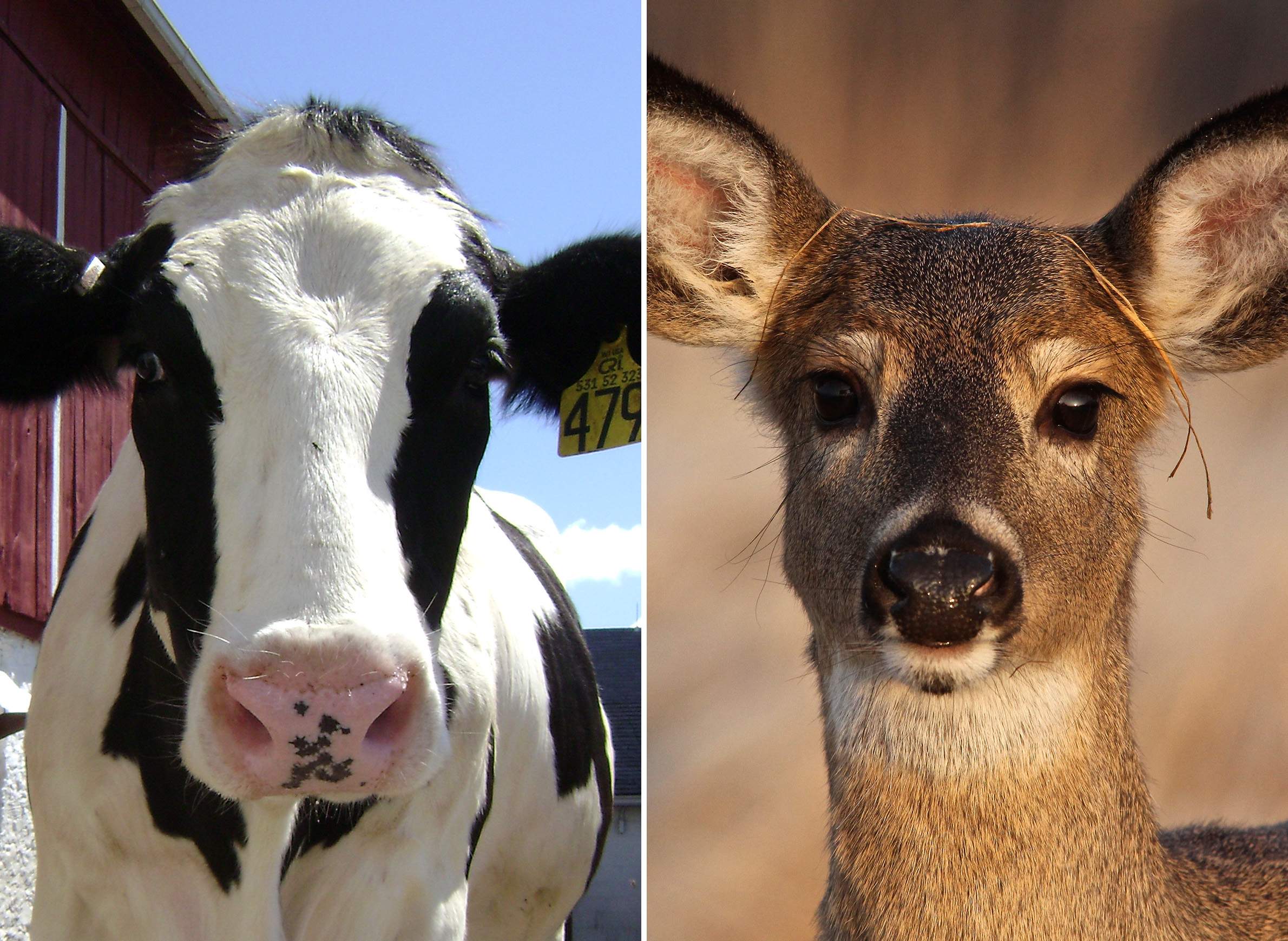 Dairy is the pride of Wisconsin, and one of the main contributors to its agricultural economy and cultural identity. The central role of the dairy industry, and the type of land uses it requires, represent one way to think about Wisconsin's rural identity. Hunting is another point of pride across Wisconsin. Every autumn with the state's main deer hunts, many Wisconsinites' interest in this activity hinge on another type of rural land use: forests and other uncultivated spaces.
Given their prominence in Wisconsin's traditions, where cows and deer can actually be found around the state can serve as a lens to examine rurality. The University of Wisconsin Applied Population Laboratory has examined several ways rurality is defined demographically, through the size and location of urban centers, commuting patterns and more.
Another approach to defining rurality identified in that report is the number of cows for each person. This interactive map highlights the cow-to-person ratio for every county in Wisconsin, with data coming from the U.S. Census Bureau and the U.S. Department of Agriculture's census.
By this definition, Lafayette is a particularly rural Wisconsin county, with over six cows for each person. Buffalo, Clark, and Kewaunee counties also stand out with more than four cows for each human.
In general, the counties that have large numbers of cows compared to people, and are dependent on dairy farming are clustered in central and southern sections of the state, with a strong concentration in its southwest corner. Low cow-to-person counts in southeastern Wisconsin's urbanized counties reflects the many urban land uses there, such as houses, apartments, commercial buildings, yards, shopping centers, parking lots and roadways. A band of low cow-to-person ratio counties also covers the northern swath of the state, which is economically oriented to tourism and extraction industries, with the associated land uses relying on forests and lakes.
What about deer numbers in Wisconsin? Where are the luckiest hunters often headed? This interactive map highlights the deer-to-person ratio for every county in the state, with data coming from the U.S. Census Bureau and Wisconsin Department of Natural Resources.
Buffalo County has the highest ratio, with more than two-and-a-half deer for each person. Richland County also stands out with more than two deer for every person.
In general, much of the land in rural counties around the eastern part of the state is dedicated to crop farming. Paired with modest human population densities, that means a more even ratio between humans and deer.
But the mixed land uses of forest and dairy along the Minnesota border do seem to be particularly deer-friendly. Northern Wisconsin counties also house larger deer populations and a low human population, particularly in the state's northwest corner. And as with cows, the urbanized areas in southeastern Wisconsin do not make a good home for larger populations of deer.
So which is the most rural county in Wisconsin using these measures? With more than two deer and four cows for each person, it might just be Buffalo County. And with its human population projected to slightly decrease over the next quarter-century, the county's ratio of people to two of the state's most iconic animals doesn't look to be changing anytime soon.
This report was produced in a partnership between PBS Wisconsin and Wisconsin Public Radio. © Copyright 2023, Wisconsin Educational Communications Board and the University of Wisconsin-Madison.