Wisconsin's Tangled Rural-Urban Commuting Patterns
Interview: Flow Between Cities, Smaller Communities Illustrates Connected Relationships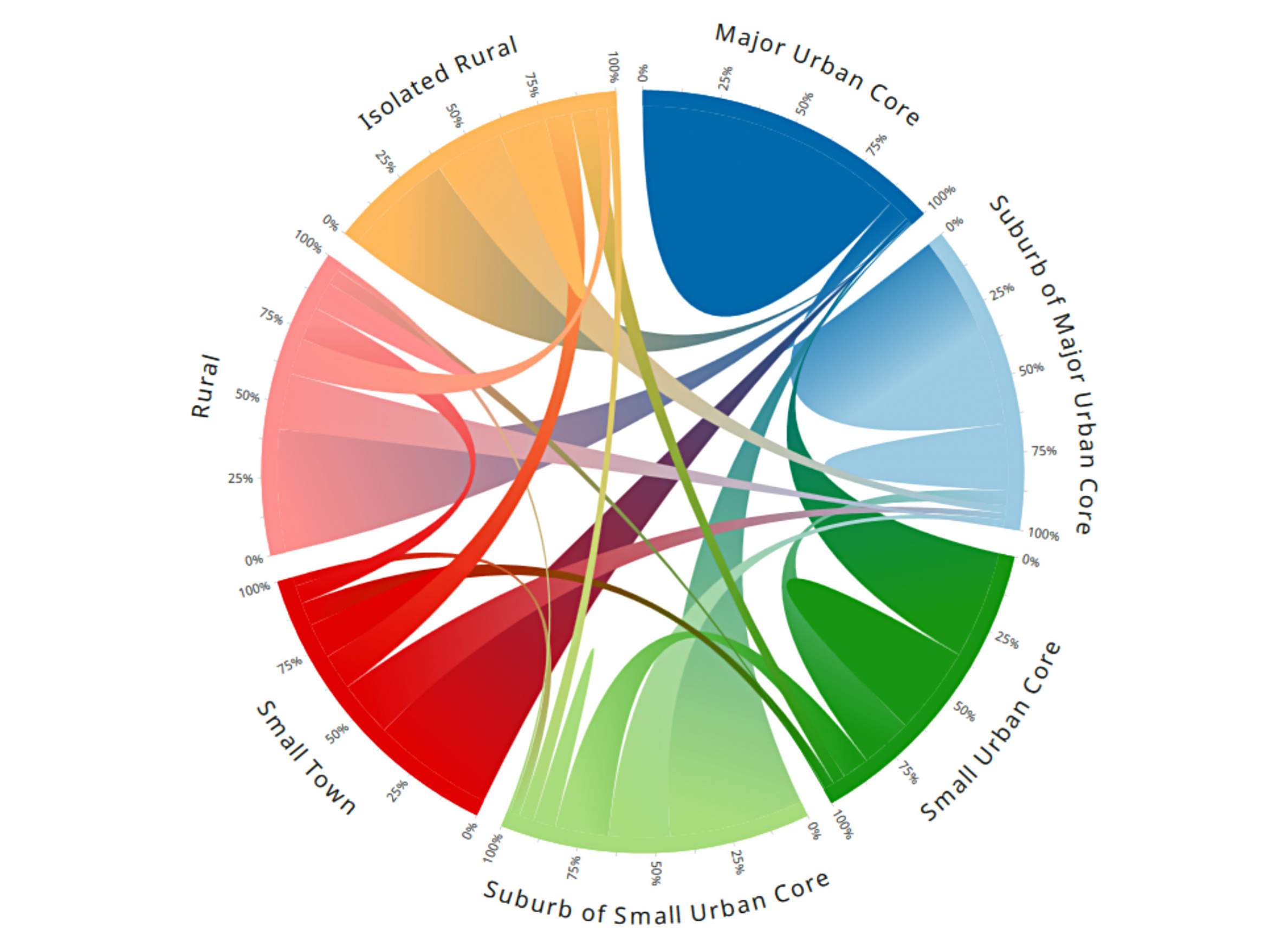 While perceived social and political divides between the urban and rural areas of Wisconsin remains a frequent topic of discussion, gaining a better understanding of the relationships between the two is very influenced by where people work.
Many rural residents commute to both small and large urban centers, with their counterparts likewise often traveling between different places to-and-from their jobs. These connections help people develop relationships with the communities in which they work by participating in cultural activities and frequenting local businesses before they return to their homes.
A chord diagram released by the University of Wisconsin Applied Population Laboratory explores commuting patterns in Wisconsin by examining seven designations of neighborhoods or census tracts: isolated rural, rural, small town, suburb of small urban core, small urban core, suburb of major urban core and major urban core. The level of work-related travel between these areas varies, but the diagram shows 37 percent of isolated rural residents travel to a major urban core for work, while around 16 percent work in an isolated rural setting. Meanwhile, 41 percent of rural residents commute to a city, with another 9 percent remain in rural areas for work. On the other hand, 90 percent of people who live in major urban core areas work in the same.
Malia Jones, a social epidemiologist with the UW Applied Population Lab, discussed how the chart illustrates trends in commuting among the state's cities, suburbs and rural communities on the Oct. 19, 2017 edition of Wisconsin Public Radio's Central Time.
This report was produced in a partnership between PBS Wisconsin and Wisconsin Public Radio. © Copyright 2023, Wisconsin Educational Communications Board and the University of Wisconsin-Madison.