10 Things To Know About Wisconsin's Wet Summer In 2017
It's Been Quite A Rainy Year So Far, And Why That's Important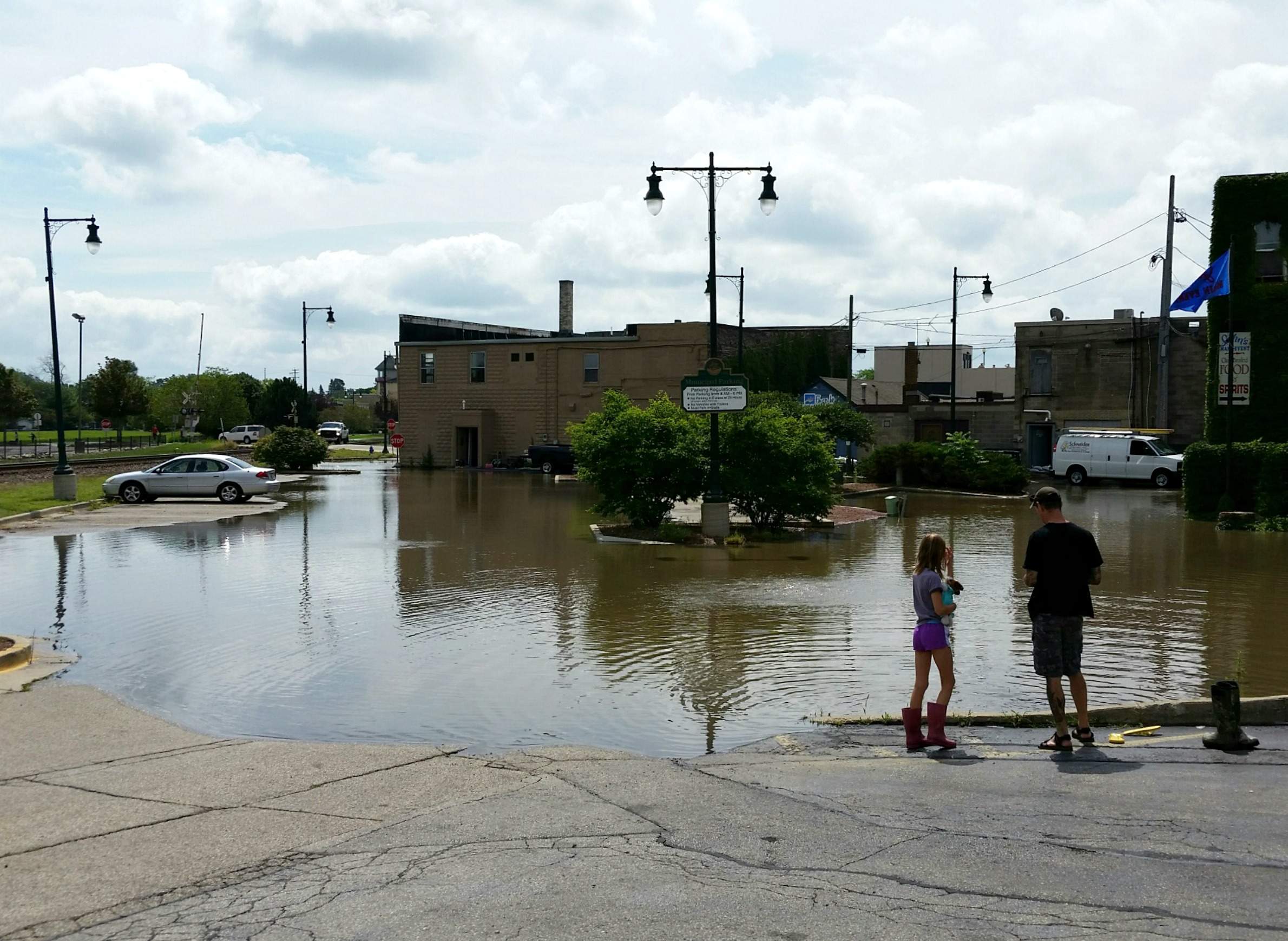 While the northern Great Plains states are experiencing serious drought conditions, much of the rest of the U.S. is well-watered so far in 2017. Wisconsin is no exception to this pattern as summer enters its second half. In fact, many areas of the state are dealing with regular bouts of heavy rains and the flooding that can come with them. Here's a look at what's happening on the ground and the implications of so much precipitation.
1. Wisconsin recorded near-record levels of rain in the first half of 2017.
Between January and June 2017, more than 20 inches of rain fell in Wisconsin, enough to make the first-half of the year the second wettest on record. These conditions mean that farmers might not see bumper harvests in the autumn, as some crops do well with drier spells in early summer. On the other hand, more rain can mean more water flowing into rivers and lakes. That means shipping vessels on the Mississippi River and Great Lakes will be able to carry more cargo in the slightly deeper waters.
2. Heavy rains have caused flooding across the state.
While portions of western and northwestern Wisconsin saw extensive flooding in 2016, the issue has been statewide in 2017. From La Crosse to Stevens Point to Minocqua, a wide range of Wisconsinites have faced flooded roads, homes and businesses, causing power outages and other problems.
Perhaps the hardest-hit community so far in 2017 is Burlington in Racine County. Heavy rains in early July caused the Fox River to swell, closing off roads, damaging a dam on the river and forcing businesses to close. It left about 4,000 homes without power, and the damage was spread across Racine, Kenosha and Walworth counties.
When floods strike, so do a variety of hazards to safety and health. Along with issues related to well water and garden produce, flooding promotes the growth of mold, which can threaten health and is expensive to mitigate. Officials recommend using professional cleaning services for structures hit by floods, and inspecting electronics, appliances, heating and air-conditioning systems for any damage.
3. Tough growing conditions are affecting the soybean market.
Wisconsin had a record soybean harvest in 2016, but it is lagging a year later. As of the first week of July 2017, the crop was about a week-and-a-half behind where it was a year earlier. Heavy spring rains can delay planting, and too much moisture causes soil and disease challenges. As a whole, these conditions are leading to stronger prices for soybeans. Meanwhile, the state's corn crop looks to be weathering the wetter conditions better, so far.
4. Strawberry season ended a little early.
The season for growing (and picking) strawberries was a bit shorter in 2017, ending a little earlier than is typical. Rain and hail damaged plants, as did hot temperatures in June.
5. Logging is slowing down due to the rains.
Heavy rains in northern Wisconsin are causing headaches for loggers, with timber harvests slowing and lumber inventories shrinking. The wet conditions and flooding are leading to road closures, limiting access for loggers, and those roads that remain open are too muddy to handle heavy loads without serious damage to them. On the forest floor itself, loggers need firm ground to bring in their equipment and do their work. These limitations are also affecting the incomes of loggers who can't work during the slowdown.
6. Wet conditions mean more mosquitoes and greater threat of disease.
Wisconsin is experiencing a bumper crop of mosquitoes in 2017 thanks to all of the rain on top of a mild winter. Standing water is a welcome habitat for the pesky insects, and they're breeding prodigiously. Along with causing discomfort for people they feed on, mosquitoes can carry numerous pathogens. The West Nile and Zika viruses are high-profile but not a pressing concern in the state. However, a mosquito-borne disease called La Crosse encephalitis is found in Wisconsin, though is very rare, with only two cases in the state reported in 2016.
7. Northern Wisconsin is still recovering from devastating floods in 2016.
Communities across eight counties in northwestern Wisconsin have yet to repair all the washed-out roads, damaged homes, and hobbled businesses left behind after torrential rains hit the region on July 11, 2016. The Federal Emergency Management Agency has set aside more than $8 million for flood relief in that part of the state, and the Army Corps of Engineers is helping repair an estimated $10 million in damage to Saxon Harbor, where floodwaters pushed boats and debris into Lake Superior. The lingering damage highlights how flood recovery is a messy, long-term process.
8. Flooding has affected Wisconsin throughout its history.
Wisconsin experienced particularly damaging floods in the 1880s, hitting communities in the state's more populated river valleys. Flooding hit the Mississippi Rivers in 1880, disrupting train service in La Crosse. That year and again in 1881, a levee on the Wisconsin River failed, channeling water into the Fox Valley. Portage was hit first, with Fond du Lac, Oshkosh and Neenah following a year later. In 1884, the Chippewa River flooded in Eau Claire, washing away homes, bridges and lumberyards.
9. Scientists are researching the implications of increased rain levels.
As the planet's atmosphere warms, climatologists project that the upper Midwest will experience more frequent and heavier rains, though they often caution against attributing any one weather event to climate change alone. Researchers at the University of Wisconsin-Madison have worked to help communities in the state prepare for floods by creating a computer simulation that "transposes" recent heavy rainstorms from one area to another. The model anticipates a storm's worst possible effects in a given area, which helps local officials find weak spots in their infrastructure and emergency response.
Rain is also an important reason why Wisconsin is so rich in groundwater. But as rainwater makes its way underground from the surface, it also picks up nasty stuff, from fecal matter to natural deposits of heavy metals. More heavy rain, therefore, will speed up the process that washes contaminants like these into Wisconsinites' drinking water. One recent University of Florida study found that climate change will make people in northern Wisconsin more susceptible to infection from viruses and bacteria.
10. Flooding is a threat to wells and gardens.
Rural Wisconsinites are especially vulnerable to water-quality problems in the wake of a flood. Not only do they live closer to farm fields where nitrate and manure run off into surface and groundwater, but many people also rely on private wells for their water without a municipal utility to help test or treat it. Whenever there are floods, in fact, state and local officials advise private well owners to take extra precautions.
Contaminated floodwaters can also make fruit and vegetables in gardens unsafe to eat. People with gardens can take precautions with potentially compromised produce, and have to keep an eye for damage to plants that excess moisture can cause, like encouraging plant diseases. Constructing a rain garden can help control the impacts of flooding on a small scale.
The three-month weather forecast for the U.S. by the National Weather Service Climate Prediction Center projects a higher probability of above average temperatures for the rest of the summer in Wisconsin. Precipitation levels across the state are expected to be near normal though this period. Nevertheless, heavy rains are increasingly a fact of life in summer and more floods are likely in at least one place or another.
This report was produced in a partnership between PBS Wisconsin and Wisconsin Public Radio. © Copyright 2023, Wisconsin Educational Communications Board and the University of Wisconsin-Madison.