Distinctive Hybrid Grapes Shape The Wild Midwest Of Winemaking
University Place: How Cold Climate Varieties Define Viticulture In Wisconsin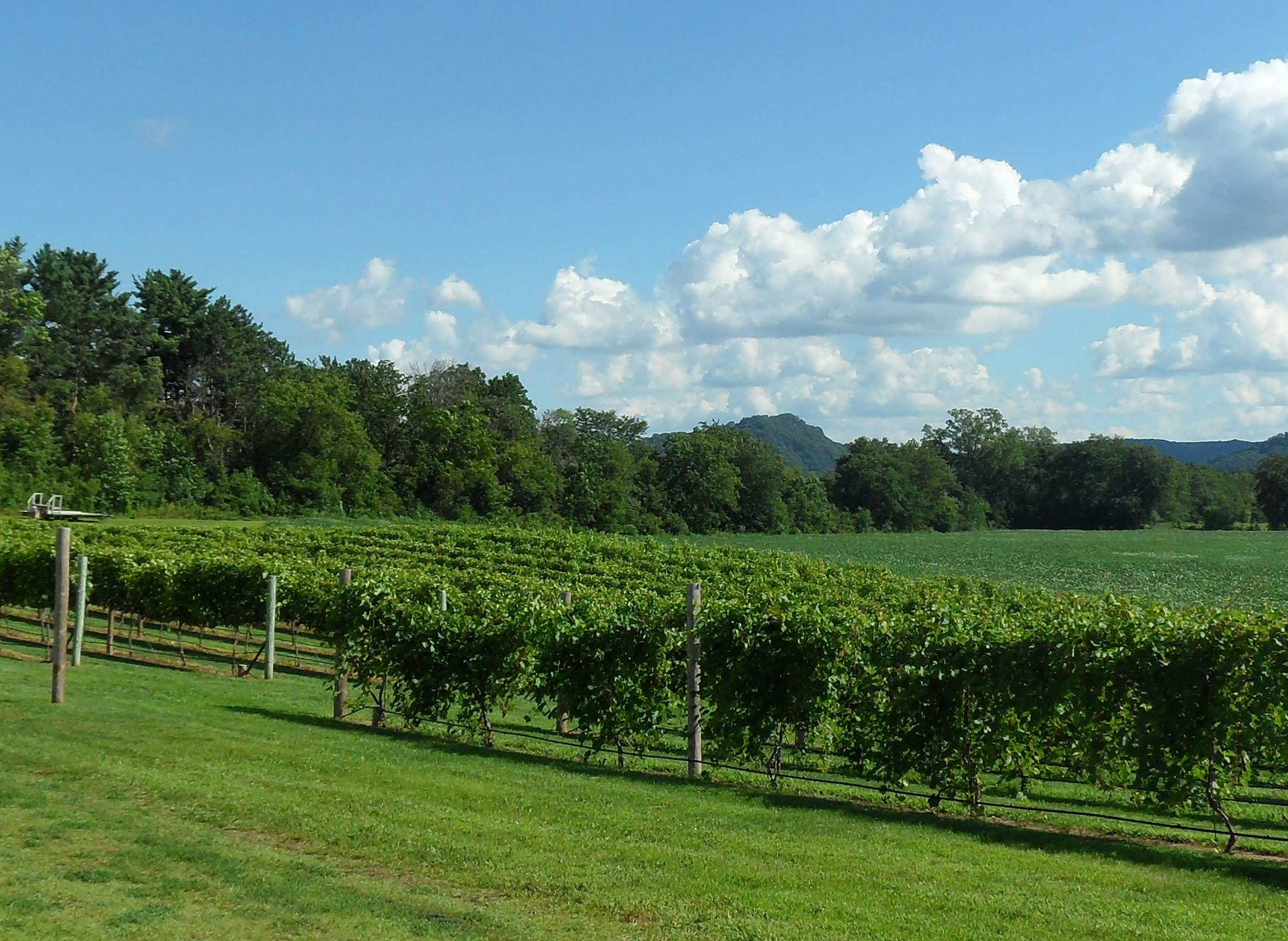 The sun-kissed bounties of California and the storied lineage of grape vines in France seem incompatible with the onslaught of ice and snow that layer Wisconsin for much of the year. Indeed, the grapes that yield many distinguished types of wine are incompatible with the state's low winter temperatures. In places where the common grape vine (Vitis vinifera) recoils from the cold, though, old and new hybrid varieties are supporting a growing commitment to viticulture in the Midwest.
University of Wisconsin-Madison enologist Nick Smith discussed the possibilities, challenges and trade-offs associated with growing wine grapes in places where the temperature regularly plunges below freezing in a Wednesday Nite @ the Lab presentation at the UW-Madison campus on Oct. 20, 2015, recorded for Wisconsin Public Television's University Place. He said grape varieties that take root in frostier climates can offer interesting quirks and unique benefits to winemakers.
"We say that the Midwest is kind of like the Wild West of grape growing — there are no limits, there's nothing telling us what we can and can't do," Smith said. "Hopefully some creative and adventurous people will come out and create some new things."
Environmental factors and species variation both play a role in making Wisconsin wine distinct from that of other regions. While most wine grapes grown in Europe and other warm climates are variants of Vitis vinifera, the grapes grown in the Midwest are largely hybrids of native North American species like the fox grape (Vitis labrusca) that are high in tannins and malic acid, factors that can impact the color and flavor of the wine they produce.
Length of daylight and lower growing temperatures also change the flavor of grapes, as sun exposure lowers acidity, increases sugar levels and raises taste-defining phenolic content.
Together, high acidity, low tannin and low sugar content makes grape hybrids like Marquette and Frontenac particularly well suited to rosés. Cold climate wines have a distinct, aromatic profile, and Wisconsin vintners also find success producing sparkling wines, ports and dessert wines.
While the unique flavor profiles of cold hardy grapes can inspire creativity and produce palatable wine, they may require additional work during the fermenting process to achieve specific results desired by vintners. Malic acid, for example, produces an astringent flavor that is often considered undesirable but can be mitigated by using yeast or bacteria to convert the malic acid to lactic acid or another byproduct.
Many off-flavors or non-standard colors are considered flaws in the final product by connoisseurs, but Smith suggested these common markers of quality are mitigated by the preferences and surrounding experience of the person drinking the finished wine.
"Every one of us smells wine differently," Smith said. "What we're sensitive to and not sensitive to is very individual, so every person's experience is unique. It makes quality kind of a challenge to define."
Key facts
The U.S. Treasury Department has defined 242 American Viticultural Areas as of 2018, including three that encompass parts of Wisconsin: the Upper Mississippi Valley AVA, the Lake Wisconsin AVA and the Wisconsin Ledge AVA. These areas are defined by the specific characteristics of their grapes and wine, and can aid producers in marketing and differentiation from other regions.


Wisconsin has more than 100 licensed wineries, with an average of 5 to 10 new operations opening per year. The number of wineries in the state roughly doubled in the early 2010s, and more than 700 acres were devoted to growing grapes that support the industry by 2015. Wisconsin's five largest wineries in 2015 were Wollersheim, Door 44, Danzinger Vineyards, Door Peninsula and Elmaro.


Wisconsin native Elmer Swenson, hailed as the "godfather of grape breeding," worked with the University of Minnesota, which has had a grape breeding and enology research program for decades, to create several new grape varieties, including Edelweiss, Swenson Red, St. Pepin and Brianna, that are used in wine production.


Vintners often go to great lengths to remove small crystals that can result from the winemaking byproduct potassium bitartrate to give their finished wine a clear appearance. While this process can slightly reduce acidity, there is a subset of producers who embrace a cloudier appearance or the presence of sediment.


Where most fermentation techniques convert sugar to an acid, lowering the pH of the finished product, malolactic fermentation reduces acidity by using an enzyme to convert malic acid to milder lactic acid. This process can result in a reduction of desirable fruity flavors in some wines, but careful timing of the addition of malolactic bacteria can prevent this change.


The Northern Grapes Project, a partnership between several universities in the Midwest and Northeast, seeks to pool research efforts on grape varieties. Although cold-hardy grapes are bred to withstand the frosty winters in the Midwest, extreme cold may still damage or destroy vines.


Cold weather grape varieties and the challenges of marketing Wisconsin wines were the focus of a March 19, 2015 presentation by a UW-Madison plant pathology graduate student, recorded for Wisconsin Public Television's University Place.
Key quotes
On Wisconsin wine producers: "We should be proud of some of our wineries, particularly Wollersheim Winery. It's one of the largest independent held wineries outside of California, including Oregon and Washington. So I think it's about 13th. They're producing 100,000 cases, roughly, every year."


On the flavor of cold weather grapes: "One of my ultimate goals is to identify the flavor compounds in cold climate grapes and understand how viticulture and enology influences those, so we can give winemakers a range of options on how to make their wine based on how flavor is influenced."


On adjusting practices for growing and using different kinds of grapes: "We don't have a lot of tannins and we have a lot of color. It doesn't make sense for us to be using standard vinifera practices to be making wine."


On the balance of tannins and acids in cold weather wine: "Vinifera have a great deal of tannins and not nearly as much anthocyanin content, where the cold climate varieties have a tremendous amount of anthocyanins and not a lot of tannins... I kind of prefer the fact that we don't have a lot of tannin in that. If we had high tannin and high acid, it'd be a very difficult wine to work with, even more than it already is. Acid tends to increase the perception of tannins, as well as tannins increasing the perception of acid."


On the freedom of making new types of wine: "There's opportunities out there, and there's not restrictions; not Europe where you have to grow your grapes a certain way, produce your wines a certain way. There's all sorts of options and opportunities. So, if you're, I guess, an adventurous sort, growing grapes and wine and making wine here in Wisconsin is kind of a great place to be."
This report was produced in a partnership between PBS Wisconsin and Wisconsin Public Radio. © Copyright 2023, Wisconsin Educational Communications Board and the University of Wisconsin-Madison.