How Americans Forgot And Rediscovered The Values Of Farmers' Markets
University Of The Air: The Business And Community-Building Opportunities Of Fresh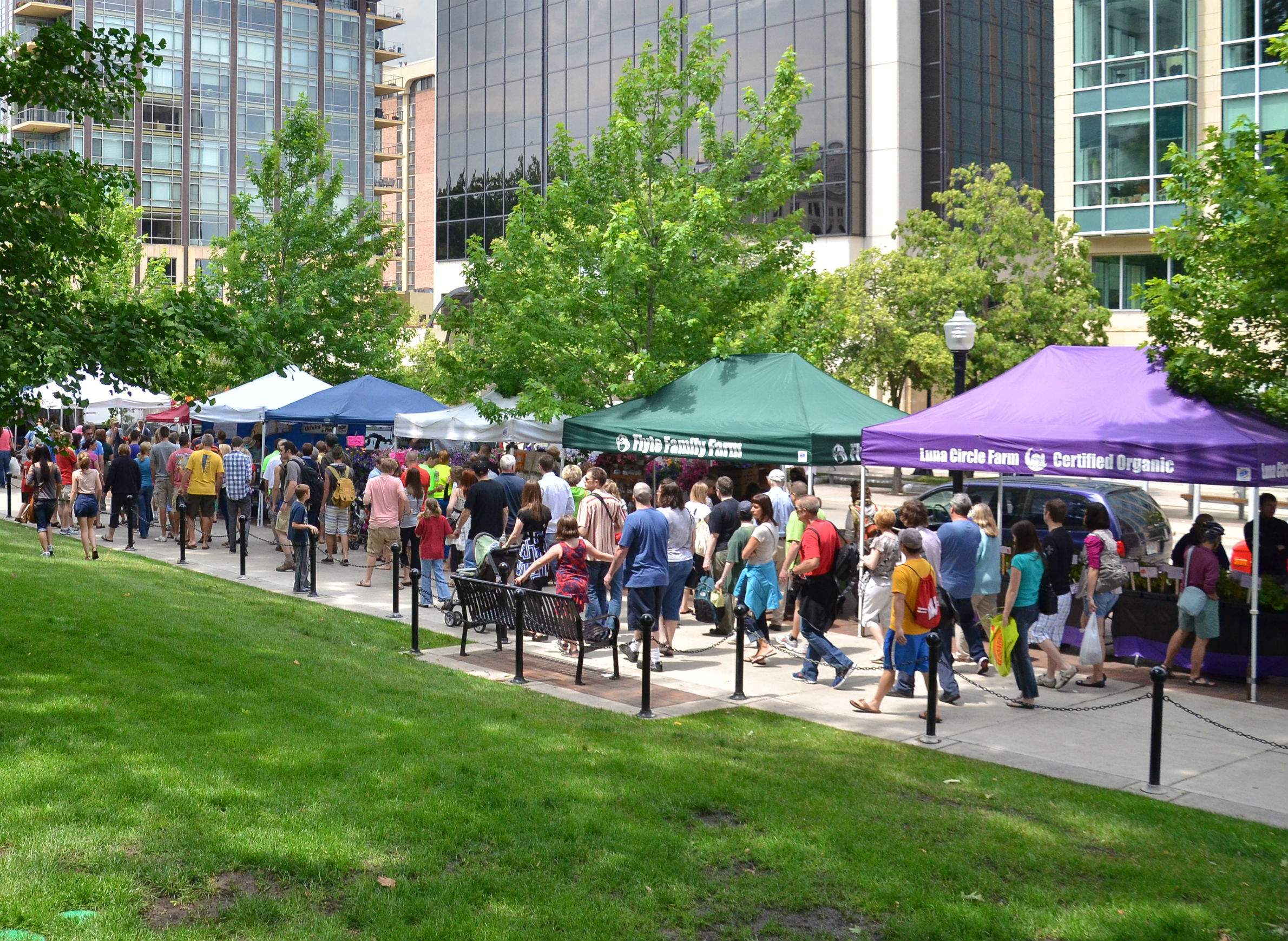 In a highly connected age of smartphone shopping and new automated grocery delivery services, a trip to a local farmers' market can seem like an anachronistic journey to the past. The streets and parking lots where markets are often held find neighbors greeting each other amid fresh produce and baked goods as live music fills the air, creating a different atmosphere than supermarkets, much less a glowing screen at home.
But community markets were once far more common in communities across the United States before grocery stores began to supplant them in the early 20th century, said Alfonso Morales, a professor of planning and landscape architecture at the University of Wisconsin-Madison. He discussed the history of and research of the community and economic roles of public markets during a March 25, 2018 interview on Wisconsin Public Radio's University of the Air.
"For about 60 years in the United States they really became secondary, they became marginalized and places even of ill repute, where stolen goods would get moved or expired items would be sold," Morales said. "So I really wasn't discovering anything, I was just bringing to light things that we had ignored for many years."
Even as the popularity of public markets shrank alongside investment in the nation's cities, they provided economic opportunity to women and people of color, who were routinely denied participation in the broader economy. With low barriers to entry and limited overhead costs, markets allowed people to start small businesses, and the profits derived were often reinvested in the education of the proprietor or their children, providing a generational economic engine for advancement.
Widespread public markets began to re-emerge in the 1970s, with a focus on farmers' markets. The Dane County Farmers' Market, held on the Capitol Square in downtown Madison, was founded in 1972 and is the nation's second oldest producer-only market. While growth in the trend of healthy eating among their wealthier and predominantly white patrons helped to swell the number of farmers' markets nationwide from fewer than 400 in the early 1970s to more than 8,000 in 2017, their spike in popularity also drove the adoption of a patchwork of regulations that present additional obstacles to participation, particularly for populations of recent immigrants who may be intimidated by the regulations or face language barriers.
"In Wisconsin, there's a number of things that are fairly permissive about our food law, but there's a number of things that are very difficult about it," Morales said. "It's an invisible thing, the law and regulation, that inhibits people. But doesn't just inhibit people, it structures these food system activities."
Although securing a coveted vendor spot at the Dane County Farmers' Market may require up to a three-year wait, hundreds of other markets dot the state. In locations where there is an unmet demand for this type of retail, residents may want to consider starting their own market.
Morales recommended that anyone interested in starting a farmers' or other public market begin by gaining an understanding of the relevant state and local laws. Once the regulatory component is resolved, he said market founders should formulate a plan that considers the financing, placement, architectural considerations and social elements of their idea.
"We want folks to be fully part of a place. We want them to help make a place vibrant and exciting," Morales said. "Street markets are just that — they're exciting places that do actual things like the sale of goods and services, but they also do things that are more diaphanous. They support culture, they support the arts and music and all kinds of different programming... Markets are really multi-functional."
Key facts
People who shop at farmers' markets consume one-and-a-half times more fresh fruits and vegetables on average than those who shop only at grocery stores. Increased consumption of fresh produce is linked with a reduction in the risk of food-related illnesses like diabetes and high blood pressure.


The Dane County Farmers' Market in Madison is the largest producer only farmers' market in the U.S., and the second oldest contemporary farmers' market in the nation. The oldest market of this type is in Berkeley, Calif. The oldest continuously operating open-air market is the Easton Farmers' Market located in eastern Pennsylvania, which was founded in 1752, and is also a producer-only market.


Some farmers' markets have stringent requirements of the products their vendors sell, including the Dane County Farmers' Market. To be eligible to sell goods in it, vendors must play a role in the production of the goods they are selling, and only agricultural products are permitted. Vendors who sell prepared food, crafts, clothing, art or other items are permitted to operate adjacent to but separately from the primary market on the Capitol Square.


Morales partnered with the Oneida Nation in northeast Wisconsin to develop a community food system building that includes space for gardening, education on nutrition and food production, a cafe and a farmers' market.


Working through UW-Madison, Morales helped create a data toolkit called MIFI Markets, which is short for Metrics + Indicators For Impact. It helps farmers' market founders and managers evaluate information like sales, number of visitors and how they arrive at local markets. It also helps analyze the variety of products available and desired by a community and the diversity of participating vendors.
Key quotes
On the emerging trend of online grocery delivery services: "The work of Amazon and whatnot sort of mirrors the big revolution in logistics that gave us the contemporary grocery store. So now new technologies make possible this new change, and of course we know what happened with grocery stores. Folks said, 'I don't like the limited selection, I don't like how fresh it is.' So likewise, folks will say now, having been re-exposed to farmer's markets, 'I miss seeing folks, I miss the music, I miss getting out for a walk.' This isn't to say that grocery stores have gone away with the rejuvenation of farmers' markets, and likewise neither markets or grocery stores are going away with whatever happens with Amazon."


On the rediscovered elements of farmers' markets: "I use the word contemporary because of course farmers' markets were pervasive in the early part of the 20th century and prior because that's what was needed. But folks forgot how to even establish one, they forgot how to shop at one, they forgot the joys of shopping at markets: Seeing neighbors, running into folks and stopping for casual conversations, seeing the variety of political things on display, listening to live music, listening to the singing grannies, looking at information on health and welfare. There's just so many different benefits, and frankly, joys that a person can get out of a pretty Saturday morning that can be found at a farmers' market. That really has rejuvenated markets around the country."


On the intersection of gender and ethnicity among Latin-American market vendors: "Among Latinos, especially within two-parent households, very often women play a very marginal role. Their role is not unimportant, it's simply that they don't command the resources or the authority in the household in order to execute their own plan. In my studies I discovered many Latinas, principally Mexican women, principally Mexican immigrants… found in the market a way to carve out their own autonomous space, to earn their own income with which to make their own investments in themselves [and] more frequently in their children and in their households."


On the message of the young adult book Seedfolks: "Through gardening together, we can foster the sort of pro-social interactions and knowledge of each other that can help build a more beautiful community, that help people sink deep roots into their communities and spread branches that encompass each other."


On the data toolkit for market managers: "The point of that data collection toolkit is to enable market managers to decide what is important to them to evaluate: Sales, number visitors, how people get to the market, what kind of programming is done at the market. Is food security fostered at the market? How far vendors come in to the market? Are the farmers and vendors who are coming to the market a diverse group? Do they represent a cross-section of the community? Are the products sold at the market also representative of the variety of products that a community might desire or want to experiment with?"


On the growing number of options for obtaining food: "Knowing who your farmer is, is something that is rather pleasant. Knowing that you can get a box of produce from your community supported agriculture garden program or farmer can be rather pleasant. Taking a drive out to their farm with your family can be a lot of fun. Clearly we will gain things, we will gain new choices, but will everybody want to take advantage of those choices?"
Editor's note: This item is corrected to note that the Easton Farmers' Market in Pennsylvania is a producer-only market.
This report was produced in a partnership between PBS Wisconsin and Wisconsin Public Radio. © Copyright 2023, Wisconsin Educational Communications Board and the University of Wisconsin-Madison.