As Sales Of Milk Alternatives Grow, So Do Dairy Farmers' Frustrations
Market Shift Continues As Dairy Industry Struggles With Falling Prices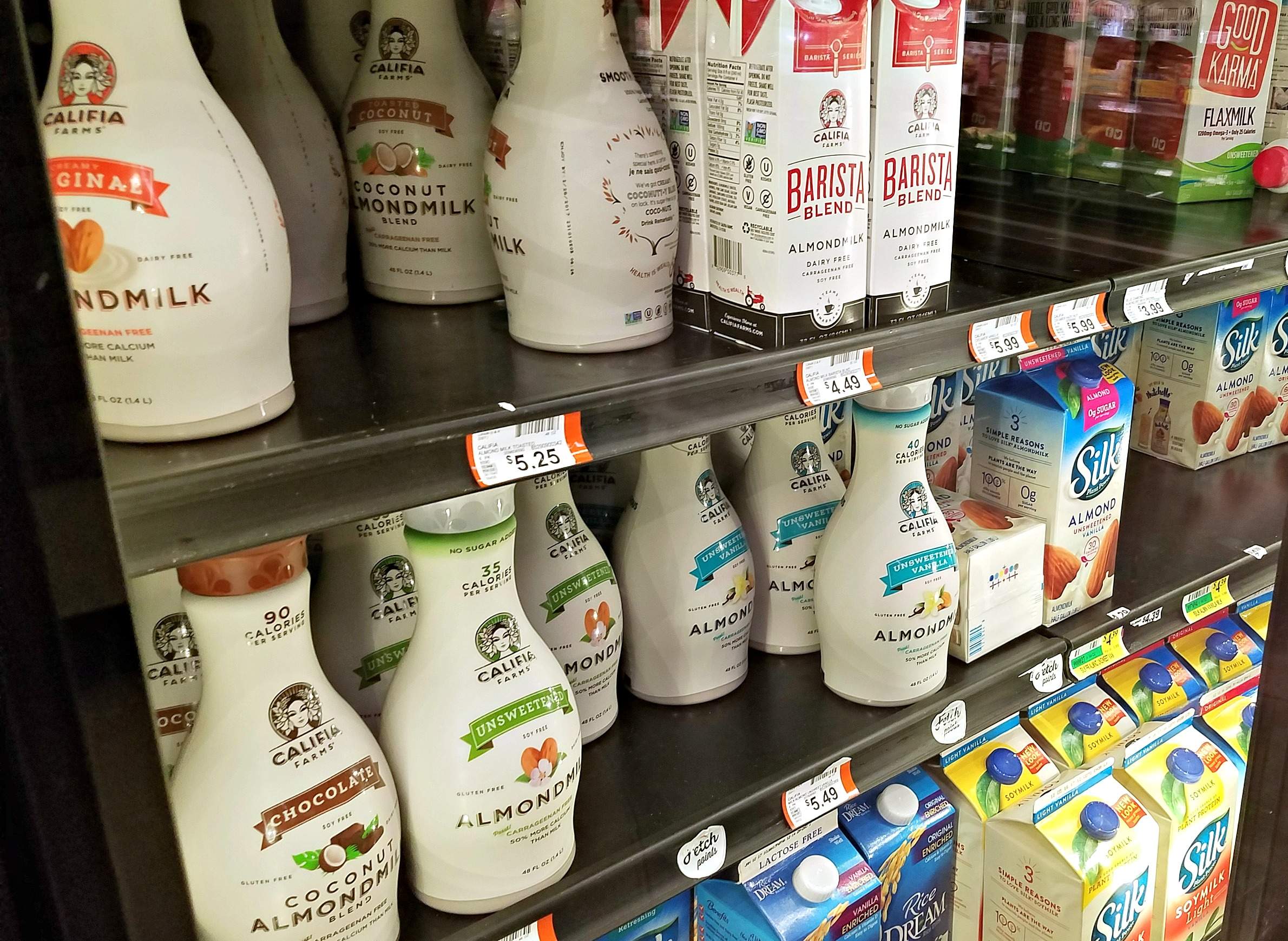 Most Wisconsinites – and Americans – have a special place in their hearts and kitchens for dairy milk.
But the last few years have seen a growth in popularity of milk alternatives such as almond milk, soy milk and rice milk. The global market for milk alternatives reached $5.8 billion in 2014 and should reach nearly $10.9 billion by 2019, according to the market research firm, BCC Research.
And those alternatives to dairy milk, which, for years, was known to be the drink essential to growing and developing strong bones, are making their way into grocery stores and kitchens for various reasons.
"There's quite a number of people with dairy allergies, and there's quite a number of people who are vegetarian or vegan who don't necessarily want to drink dairy," said Dean Kallas, grocery category manager at the Willy Street Co-op in Madison.
The rising popularity of alternative milk isn't just a trend at the co-op, according to a Nielsen report. People are moving away from dairy milk and towards nut milk nationwide.
"On the whole, almond milk has grown about 8 percent year on year," said Jordan Rost, vice president of consumer insights at Nielsen, a global marketing research firm. "And that's in contrast with the overall milk category contracting at about the same rate."
An 8 percent growth rate in almond milk is a drop in the bucket when compared to dairy milk sales, which still dominate the milk market, Rost said. But 8 percent is still enough to frustrate farmers in America's Dairyland.
The dairy industry is already struggling because milk prices are a lot lower now than they were a few years ago, said Tina Hinchley, a dairy farmer in Deerfield and a member of the Wisconsin Milk Marketing Board. So, for a dairy farmer like her, the popularity of alternative milks is unwelcome competition.
"It's not only the almond milk – it's the soy, it's the rice, it's all the different varieties of stuff. (And) now you have juices as well in the dairy case," she said. "Anything that's different (and) that kids can consume that's in competition with milk is hard on our industry."
Hinchley doesn't consider almond milk to be real milk, and there are probably other farmers who agree. A recent ad campaign funded by milk processors aimed to portray milk alternatives as the less pure drink by highlighting almond milk frequently uses the additive lecithin.
Even as people's taste buds and wellness trends start to move away from dairy milk, Hinchley said Wisconsin and its neighboring states' identities are a reason dairy is still important to her.
"This is a dairy country here," she said. "And our legacy for this state and for our families is to continue dairying."
But at the co-op, the less-traditional nature of milk alternatives doesn't deter some of its biggest fans. Shoppers such as vegetarian Bailey Lyons and her wife, Rhea Lyons, picked up Almond Breeze almond milk for its taste and because of how it fits into their personal ethics.
"We buy it because we like it better, it's better in cereal, it's better in baking, and it doesn't come with the guilt associated with buying cow's milk," Bailey said.
And even though nut milks are having their moment in the sun right now, there's a chance it may not last. Kallas said the co-op more recently introduced split pea milk and hemp milk to its shelves.
Wisconsin Public Radio, © Copyright 2023, Board of Regents of the University of Wisconsin System and Wisconsin Educational Communications Board.