Southern Rust Is A Rare But Serious Threat To Wisconsin Corn Crops
Humidity, High Temperatures Favor Plant Fungus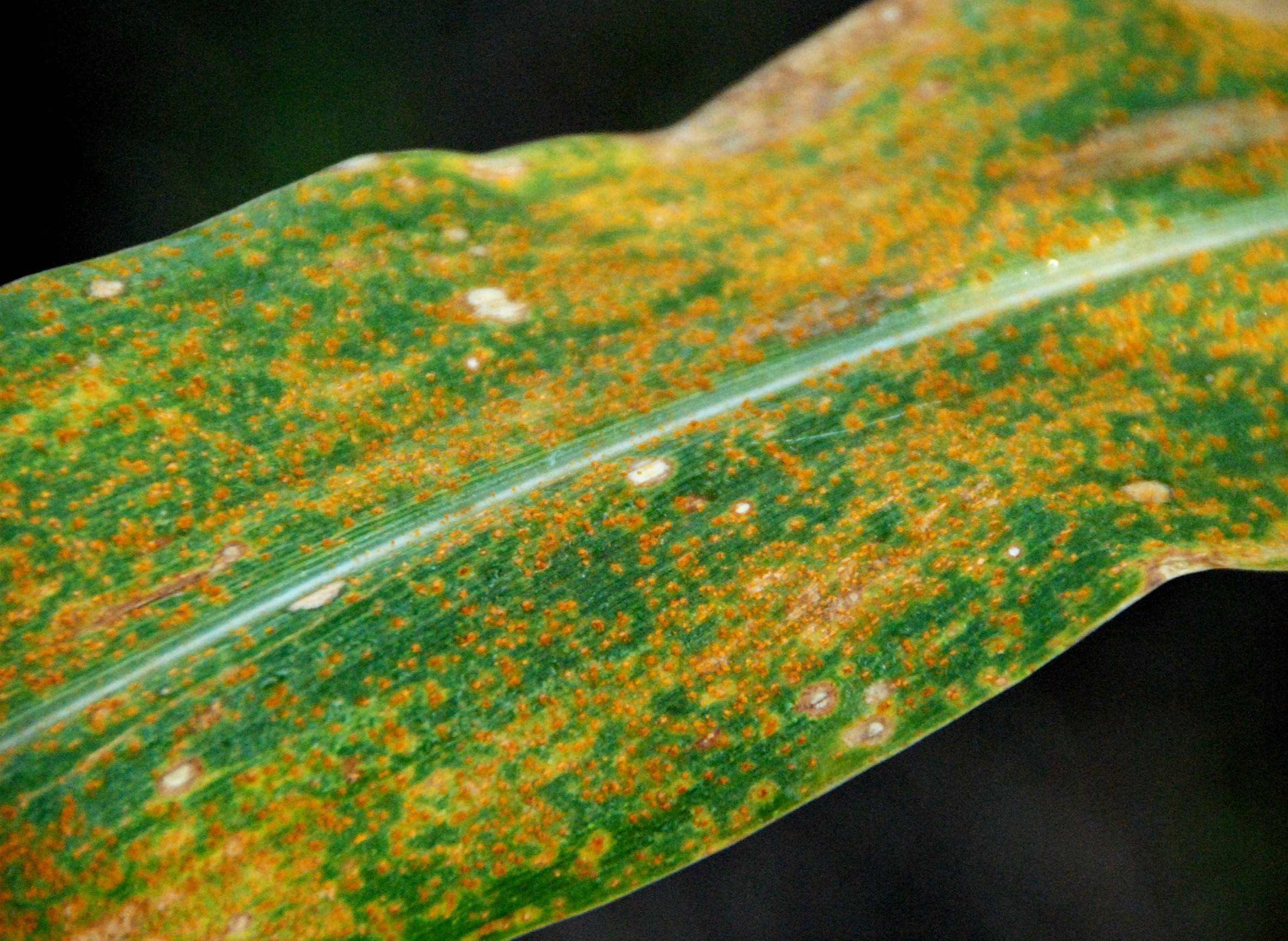 Wisconsin corn farmers are keeping an eye out for southern rust, a plant fungus that causes bright orange pustule growth on the leaves of corn. Multiple types of fungi can cause corn rusts, which are identifiable by pustules that appear on leaves, husks and stalks. Common rust, caused by Puccinia sorghi, produces brick-red spores, and is more likely to develop in periods of high humidity and warmer nighttime temperatures. Corn growers are seeing this common variant in Wisconsin this summer, as weather conditions have been somewhat conducive for its growth.
Caused by Puccinia polysora, southern rust is a rare occurrence in Wisconsin, and no confirmed cases have been identified in Illinois, Iowa or Wisconsin so far in 2016. When it does appear, epidemics are usually late in the season and in the southern and southwestern portions of the state. High humidity and temperatures around 80 degrees Fahrenheit encourage development of southern rust. Very little free moisture is needed for infection to occur.
In the United States, numerous cases of southern rust have been confirmed this year in the southern U.S. states, as well as Kentucky, Kansas and Nebraska. Wisconsin farmers are being advised to pay closer attention to this disease as confirmed cases in 2016 are occurring earlier than in recent years. This trend could mean conditions are ripe for movement of southern rust into Wisconsin. However, even if the fungus does not appear this year, it is a potential threat every summer.
The earlier appearance of confirmed cases of southern rust outside Wisconsin is tied directly to the weather this growing season. Warmer than average conditions and timely rains have led to record spread in southern states. These conditions could be an artifact of the strong El Niño this past winter and reflect increasingly likely weather patterns forecast with long-term climate change. Corn growers in the southern U.S. see southern rust every year. Occurrence in Wisconsin depends on how early the fungus gets started down south, how fast it moves north, and how warm and humid weather conditions are in the state.
The southern rust fungus cannot overwinter in Wisconsin because it requires living corn tissue to survive. For it to appear in Wisconsin, spores must blow northward from where the fungus is endemic, in tropical regions and the southern U.S.
While southern rust epidemics can be rare in Wisconsin, the disease can be serious when it occurs. In the southern U.S., yield loss can be as high as 25 bushels per acre if farmers do not treat susceptible hybrids. Therefore close monitoring of weather forecasts and scouting of fields are needed to make timely in-season fungicide applications, especially prior to the milk growth stage (or R3, in corn production parlance) of the corn's development that occurs in late July in Wisconsin.
Management of southern rust
Traditionally genetic resistance in corn hybrids was used to manage southern rust. However, in 2008 a resistance-breaking race of the southern rust fungus was confirmed in Georgia. Since then, most modern hybrids are considered susceptible to southern rust. Crop rotation and corn residue management, which is typically useful for addressing other common corn diseases in Wisconsin, have no effect on southern rust. Because of the limited management alternatives for southern rust, fungicides are typically used to control southern rust in regularly affected parts of the U.S., where it remains a consistent problem.
Farmers needing assistance in identifying rust on corn can send leaf samples of corn plants in a sealed plastic bag with no added moisture to the University of Wisconsin Plant Disease Diagnostic Clinic.
Damon Smith is a field crops pathologist with the University of Wisconsin-Extension.
This report was produced in a partnership between PBS Wisconsin and Wisconsin Public Radio. © Copyright 2023, Wisconsin Educational Communications Board and the University of Wisconsin-Madison.