When A Bomb Cyclone, Polar Vortex And Warm Snap Squeeze Into One Week
Understanding Wisconsin's Seesaw Of Winter Weather Amid Climate Change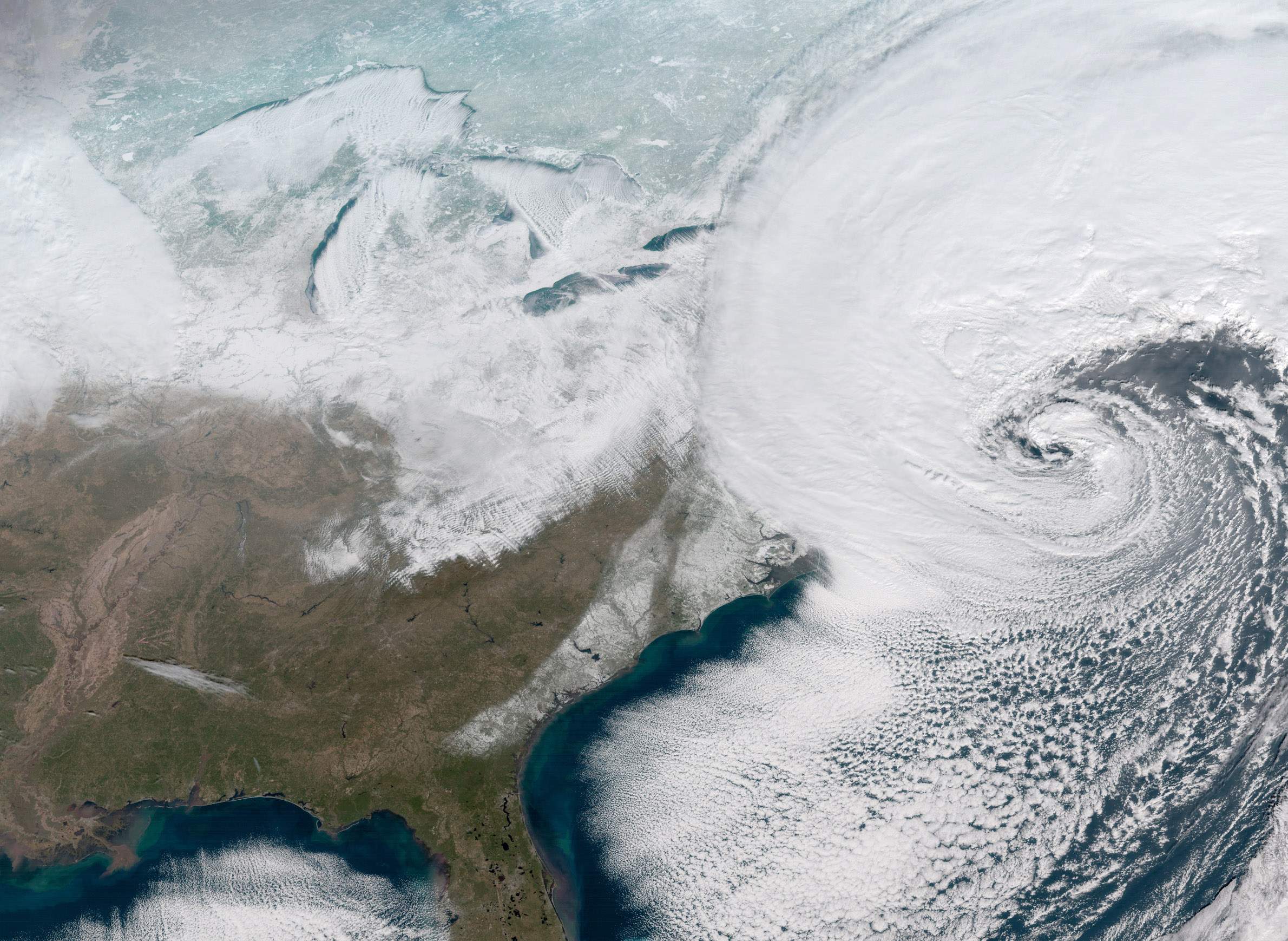 The dawn of the Anthropocene epoch has brought with it the emergence of a new subspecies of weather-related small-talk that pits the reality of wintry weather against the reality of climate change. It can get quite cold across the United States, even for winter, and sometimes in places that aren't usually so chilly. When people point to such cold snaps in policy discussions, it falls to patient climate scientists to spell out why they do not disprove the fact that global temperatures on the whole are rising.
Climate scientists understand that cold snaps and global warming coexist. However, they're still very much investigating how different weather-related phenomena interact, as University of Wisconsin-Madison atmospheric and oceanic sciences professor Jonathan Martin discussed in a Jan. 5, 2018 interview with Wisconsin Public Television's Here & Now. The opening of the new year brought a week of subzero temperatures to Wisconsin and many other parts of the nation, while a divertingly named "bomb cyclone" (more technically called "explosive cyclogenesis") brought an angry swirl of snow and wind to the East Coast.
"There's no doubt that such a thing is occurring," Martin said of climate change. "The planet is warming up at a very slow but steady rate ... whether or not it's cold in your backyard is not really discernibly attributable to that change on a case-by-case basis."
Scientists who study climate and weather are generally careful to point out that it's not necessarily accurate to attribute any one weather event to climate change. Myriad forces in the atmosphere and in the oceans continuously shape weather conditions, and one way climate change makes its mark is by intensifying or destabilizing patterns as they progress around the globe. For example, scientists are still just beginning to study how climate change interacts with the cycle known as El Niño.
Martin explained that the "bomb cyclone" gets its name from a process involving a rapid decrease of atmospheric pressure intensifying a cyclone — meteorologists call it bombogenesis, and have been at pains to clarify that it's "less scary than it sounds." It's also less exotic than it sounds.
"We probably get about two dozen of those kinds of rapidly intensifying storms around the whole northern hemisphere this winter," Martin said, but added that the one ushering in 2018 was exceptionally intense.
The bomb cyclone preceded another wave of brutal cold brought on by the so-called "polar vortex" phenomenon. This occurs when very cold air from the Arctic gets pulled down over North America, something the bomb cyclone's strong counter-clockwise circulation helped to do. In Wisconsin, the National Weather Service noted that the period between Dec. 25, 2017 and Jan. 6, 2018 brought the second lowest average temperature on record for that period. By Jan. 9, though, conditions abruptly warmed up to the point that temperatures were above freezing across much of Wisconsin.
The extreme temperature seesaw is going to keep happening even as the planet's average temperature gets warmer. Martin said climatologists are still trying to understand how, if at all, climate change could interact with or even intensify the blasts of extreme frigidity. For now, how both are happening at once is simple enough.
"It still gets cold at the North Pole," Martin said. "The sun is down for six months at the North Pole. You're not going to change that. You're still going to produce cold air up there. If, though, you can tap it with one of these excursions poleward of the jet stream and drag it southward as is happening right now with greater frequency, then one might actually...have a higher frequency of these cold snaps."
And even when the local weather seems to run against long-term trends, that doesn't mean such conditions play out everywhere.
"Right now, it's unusually warm in Russia," Martin said. "Moscow is enjoying a really warm December and January."
This report was produced in a partnership between PBS Wisconsin and Wisconsin Public Radio. © Copyright 2023, Wisconsin Educational Communications Board and the University of Wisconsin-Madison.