When A City Loses Its Best Jobs
Journalist Chronicles Janesville's Struggles In The Wake Of Auto Plant Closure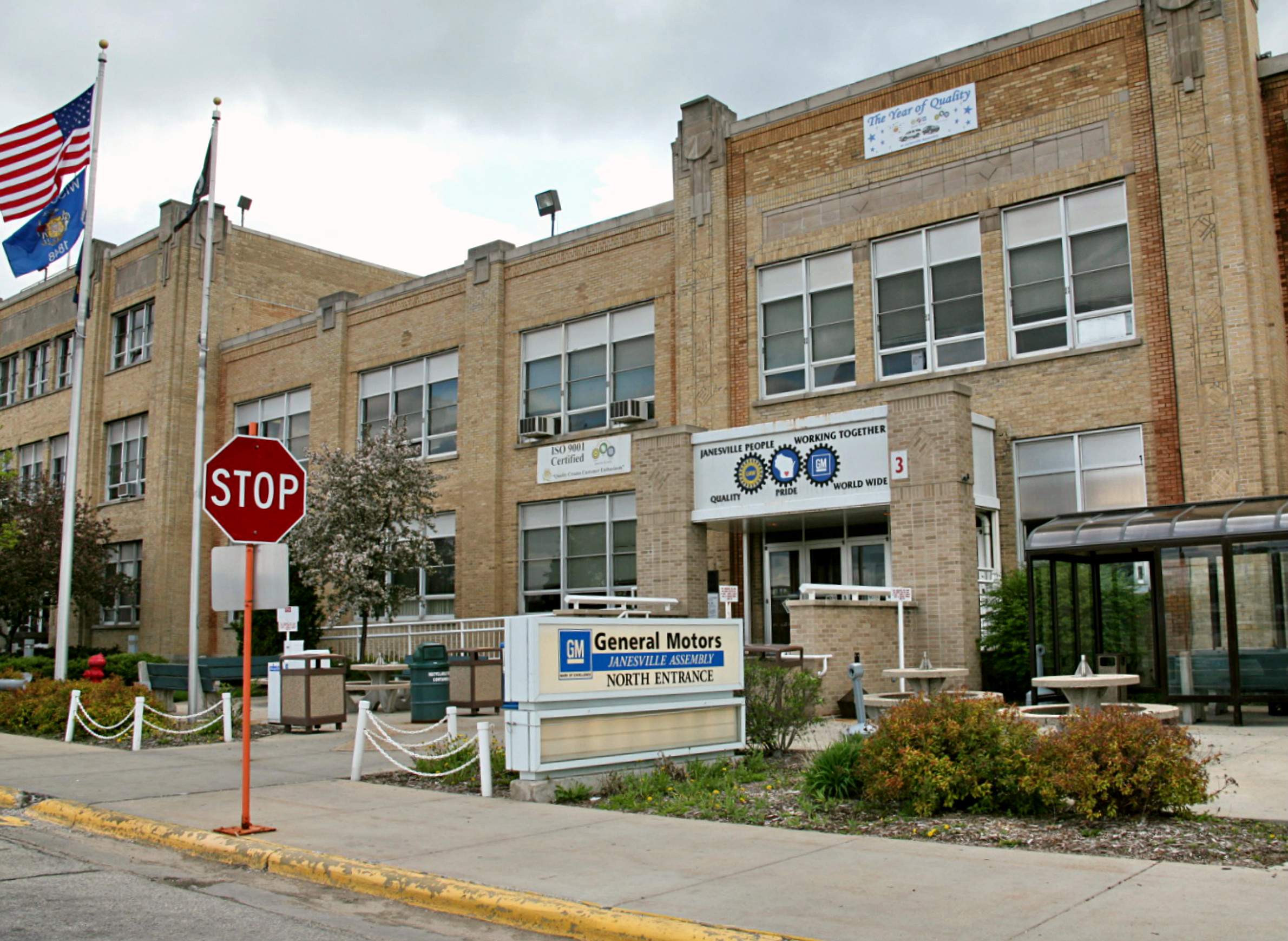 When economic recession struck in 2008, big banks weren't the only industry dealt a blow. Manufacturers suffered major setbacks, too, particularly automakers. Their struggles sent a ripple effect across the United States, but were felt in one Wisconsin city in particular. In her 2017 book Janesville: An American Story, Pulitzer Prize-winning Washington Post journalist Amy Goldstein tells the story of a community still coping with the devastating effects of the April 2009 closure of a General Motors assembly plant there.
In an April 28, 2017 interview on Wisconsin Public Television's Here & Now, Goldstein explained that she decided to write about Janesville's experiences after the Great Recession for two reasons. One, it offered relatable stories she hoped to tell. More specifically, it proved to be a unique case to observe while the rest of the nation seemingly had its eyes turned toward the Rust Belt amid the 2016 election.
"I thought people might not really understand what it feels like to people and to a community to have the best of its work go away and that's the story that I wanted to tell," Goldstein said. "I chose Janesville because so many jobs went away."
Goldstein discussed how the city changed in the eight years after the GM plant's closure, noting that the unemployment rate dropped from more than 13 percent in 2009 to less than 5 percent in 2017. But with that, she noted the types of jobs people currently work and the wages they make don't measure up to what they used to be.
"At the time that the assembly plant closed in Janesville, General Motors was paying the UAW workers $28 an hour," she said. "It's hard to find working class jobs in Janesville today that pay anything like that."
According to data from the U.S. Bureau of Labor Statistics, the average annual pay for a manufacturing job in Wisconsin in 2015 was more than $55,000. This level of compensation has increased nearly every year since 2002, but it lags the national average, and the difference between them is growing.
Future job prospects, Goldstein said, also appear to be limited. She mentioned the medical technology startup SHINE, which has been working to bring a manufacturing plant to Janesville for the past several years. While the company would likely bring well-paying employment opportunities, the facility would only create about 150 jobs, Goldstein noted. This is a drop in the bucket compared to the thousands that were lost when the GM plant closed.
Meaning more than just jobs, though, the GM plant had a historical significance to the Janesville community. In an April 27, 2017 interview with Wisconsin Public Radio's The Joy Cardin Show, Goldstein discussed how the GM plant was an integral part of many Janesville families' lives.
"And when the assembly plant was hiring, it often meant that people inside the plant could hand a hiring opportunity to someone they knew — a son, a daughter, a friend — so it was a real community thing to be pulled into this plant."
Goldstein also discussed growing political polarization and feelings of a divide within the Janesville community. She noted how this trend has materialized across many parts of the nation where people's income levels and economic security have diverged as the number of working class jobs shrinks.
Most surprisingly, Goldstein found that laid-off GM workers who went to school or had job training were actually less likely to find a new job than those who had not returned to school.
Janesville, like many cities across the nation, was struggling to get on its feet following the recession. Goldstein told WPR the city had a hard time attracting jobs and this is partially to blame for the new students' unemployment.
"I don't think it is an indictment of retraining programs broadly, but I think it does suggest that in a community that's still having a hard time pulling enough jobs into itself, that retraining alone can't solve everything," she said.
Nearly 2,000 people attended Blackhawk Technical College in Janesville over a couple years following the plant closure, Goldstein said, though not all of them completed their studies. But even those who did finish struggled to find jobs in a new field, she added.
Since the recession, median earnings among residents who did not have a college degree have mostly remained flat in both Janesville and surrounding Rock County.
By working with a team of labor economists, Goldstein found that many people who went back to school simply found that there wasn't a job waiting for them when they finished their training.
"As I got to know the people at Blackhawk Tech, I was very impressed with the work they were doing. They tried very hard to figure out what factory workers coming back to be students needed and to provide it," she said. "So I don't think that these results were anything denoting that the college hadn't been trying hard. It's just that there weren't always jobs for people to come out and get."
Looking to the future, as Janesville continues to seek new economic opportunities following the loss of GM, Goldstein said the company will likely still hold a large part of the city's identity.
"This was an assembly plant that started turning out tractors in 1919 and the first Chevy came off that assembly line in 1923," she said. "That's a hard thing to forget."
This report was produced in a partnership between PBS Wisconsin and Wisconsin Public Radio. © Copyright 2023, Wisconsin Educational Communications Board and the University of Wisconsin-Madison.