Why Wisconsin Goes To The Effort Of Monitoring Beach Quality
Keeping Beachgoers Safe From Pathogens Through Testing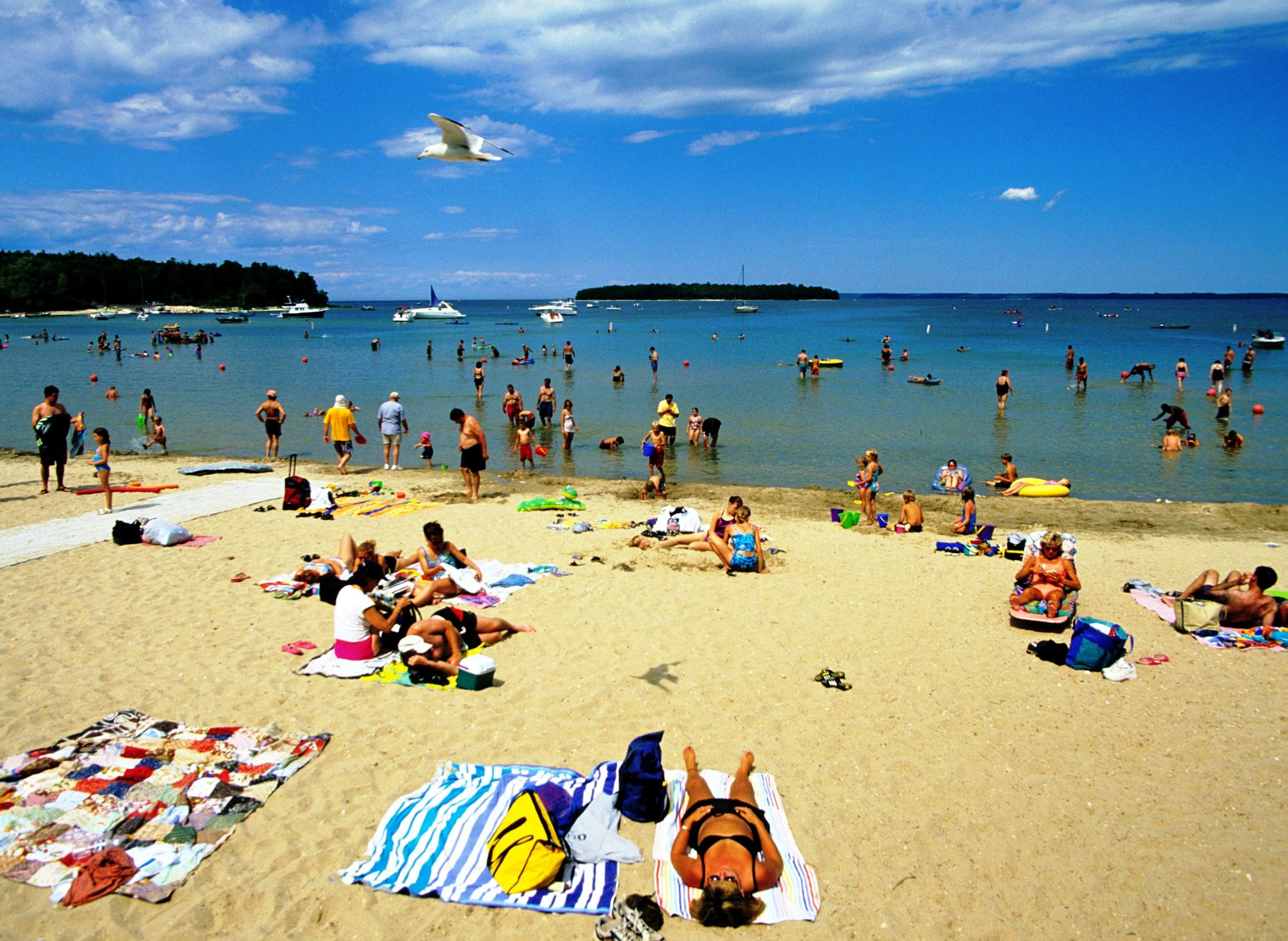 Whether along the shores of Lake Michigan or among smaller inland lakes around much of Wisconsin, no one in the state is really all that far from a beach. The fact that Wisconsin's beaches are usable for only a few months out of the year only increases the urgency of enjoying them — and thoughtfully maintaining their condition.
Testing the water off of Wisconsin beaches for Escherichia coli bacteria is one of the key protocols for keeping swimmers safe under the state's beach monitoring requirements. The Wisconsin Department of Natural Resources conducts beach water quality monitoring, as do county health agencies. Officials begin testing water a week before swimming season begins at beaches. Depending on how high-priority its water quality concerns are, a beach might be monitored as often as five times per week.
University of Wisconsin-Oshkosh professor of environmental engineering technology Greg Kleinheinz discussed why beach monitoring works the way it does in a July 27, 2015 talk at the Crossroads at Big Creek learning center in Sturgeon Bay, part of the Northern Lights Tour presented by the Wednesday Nite @ the Lab lecture series at the University of Wisconsin-Madison. Recorded for Wisconsin Public Television's University Place, his talk also covered the role Wisconsin has played in developing environmental practices for keeping swimmers safe from illnesses.
Kleinheinz, a Wisconsin native, got into some of the finer points of the fecal contamination that creates health concerns at beaches, emphasizing the importance of having a sense of humor about such an unappealing issue. He also offered a broader perspective on why people go to the effort of monitoring beach water quality and warning swimmers about conditions, namely, the economic and social impact of these popular gathering places.
Door County is home to many of Wisconsin's beaches, and Kleinheinz focused on their role at this vacation destination. He detailed how the redesign of a beach in Egg Harbor was used to both improve water quality — the beach was engineered to provide natural filtration through layers of sand and gravel — and expand its accessibility. And while Wisconsin's beaches have their share to water-quality concerns, Kleinheinz voiced optimism about the condition of the state's shoreline swimming areas.
Key facts
Fecal contamination in water at a beach can come from farm runoff, wild animals like deer and waterfowl, pets and people. But in 2012, at beaches along the Great Lakes, about 40 percent of the sources of contamination were unidentified.


Escherichia coli is an important indicator of fecal contamination in water. If it or other fecal coliform bacteria are detected, that means other pathogens are much more likely to be present nearby.


E. coli is a bacteria that is a common inhabitant of the intestines of warm-blooded animals. Often E.coli itself isn't directly harmful — there are more than 2,000 strains of the bacteria, but only a few are pathogenic. Other pathogens common in contaminated water can include bacteria like Salmonella, Campylobacter and Vibrio vulnificus, bacterial toxins like avian botulism, viuses like norovirus, and parasitic protists like Cryptosporidium parvum. Toxins from algal blooms are also a concern.


Most contamination in a beach's waters originates locally. E. coli bacteria don't always survive very long in water, so it's generally erroneous for people in one community to blame closed beaches on another place, whatever its size.


Wisconsin is the only state in the U.S. that has a two-tiered advisory system for beach safety. The DNR requires beach closures for higher levels of E. coli (1,000 organisms per 100 mL of water), but issues advisories for lower levels (235/100 mL) in which beachgoers are warned but can swim at their own risk. Many counties and cities in Wisconsin have adopted these standards and similar signage, creating a somewhat universal practice of beach safety across the state. Kleinheinz considers Wisconsin to be among the more proactive states.


The standard for testing at beaches in Wisconsin is to gather a sample from 12 inches below the surface in 24-inch-deep water.


Many of the techniques used in the U.S. Environmental Protection Agency's standard sanitary survey of beaches were developed in Door County.


Waterparks are more expensive to visit than beaches, and they operate under more intensive regulations.
Key quotes
On why E. coli is used as an indicator organism for water quality: "Why do we use an indicator? Why don't we just measure the pathogens directly? Because we have millions of organisms per gram of your fecal material that are jettisoned into the environment … the pathogens in general are much more difficult to culture, they're fragile, they're delicate."


On the limitations of using traditional bacteria culturing methods to test water samples: "You've collected a beach sample on Monday, and on Tuesday I can tell you the water was bad yesterday."


On the meaning of "swim at your own risk": "It doesn't mean 'swim at your own risk, you're swimming in a cesspool or septic tank.' We need to put this in perspective — 'swim at your own risk' really is, you're taking that statistical probability of something happening to you when visit that beach or that situation, and we use E. coli to help us. It's not the best indicator, and most of us that do this work understand there's many many limitations. But when that number increases, that risk that we're assuming by going to the beach is higher."


On beach closures: "In fact, that's very normal. It's a little frustrating if you're the beach manager or live in those municipalities, but that is very normal. Some beaches in Wisconsin, there are beaches that are closed more than 40 percent of the beach days."


On the economic impact of tourism and value of investing in beaches: "The tourism industry [in Wisconsin] was $12 to $13 billion a year in 2003 or 2004. In roughly a decade, we've added basically 40 percent. What other industries in Wisconsin have grown 40 percent?"


On how beaches create social equity: "People are able to visit the beach regardless of any socioeconomic status they may have. We in my opinion need to maintain these resources for the larger citizenry of the state. This is a key part of our history that's really worth, aside from the economic and environmental benefits, that's really worth preserving."
This report was produced in a partnership between PBS Wisconsin and Wisconsin Public Radio. © Copyright 2023, Wisconsin Educational Communications Board and the University of Wisconsin-Madison.