12 Top WisContext Stories Of 2017
Why Dairy, Ticks, Foxconn And More Helped Shape The Year In Wisconsin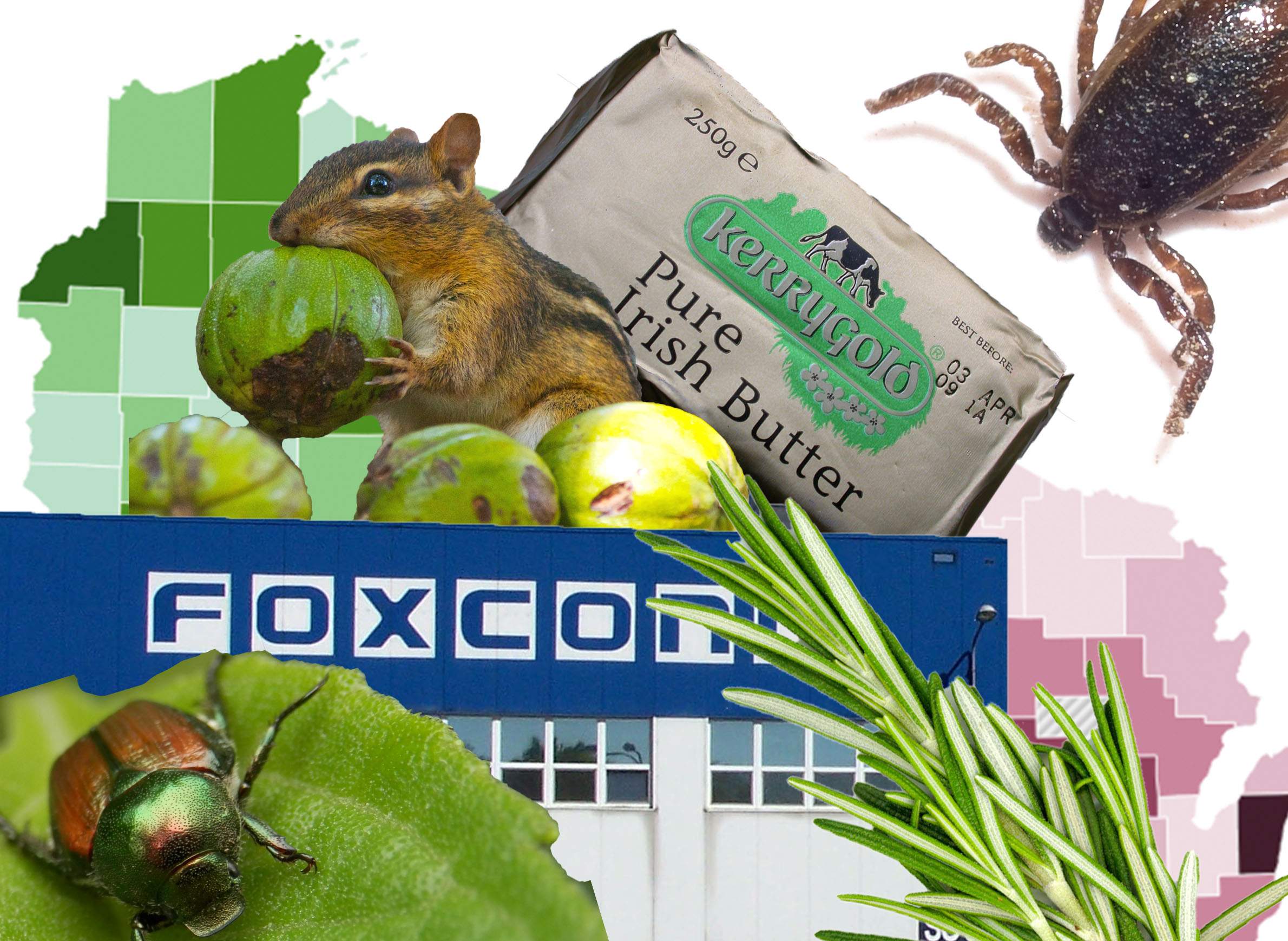 The past year at WisContext has been filled with looks at a variety of complex economic, environmental and demographic issues facing Wisconsin, along with a healthy side of bugs. Here's a look back at our most-read stories published each month of 2017.
January: Refugee Resettlement In Wisconsin, By The Numbers
The Hmong community might be the most visible refugee group in Wisconsin, but refugees who've resettled in the state this century hail from three dozen different nations.
— Scott Gordon, Jan. 25
February: The Origins Of Wisconsin's Kerrygold Underground
Illicit sales of a coveted Irish butter sparked controversy in a state with a long history of dairy protectionism.
— Scott Gordon, Feb. 24
March: Western Wisconsin Schools Grapple With Falling Status Of Teachers
Wisconsin Public Radio's The West Side explored how declining morale among teachers, greater career attrition and fewer young people entering the profession are especially tough on rural school districts.
— Scott Gordon, March 23
April: 4 Things To Know About Wisconsin's Dairy Export Controversy
A booming level of milk production and the U.S. trade relationship with Canada fueled a difficult economic period for the state's dairy industry.
— Scott Gordon, April 25
May: Deer Ticks In Wisconsin And The Diseases They Carry
On Wisconsin Public Television's University Place, University of Wisconsin-Madison entomologist Susan Paskewitz explains the ecology of deer ticks and how they are infecting humans with Lyme disease and other maladies.
— Kristian Knutsen, May 26
June: How Wisconsin Offers Fecund Ground For Anaplasmosis
In the heart of Lyme disease country, another tick-borne illness has become more common, attracting more attention from public health researchers.
— Scott Gordon, June 20
July: 5 Common Questions About Managing Japanese Beetles
Helpful tips offer guidance for managing a pesky invasive insect that devours garden plants.
— Vijai Pandian, July 21
August: What Foxconn Means For The Great Lakes Compact
Taiwan-based electronics manufacturer Foxconn will likely use millions of gallons of water per day for its factory in Mount Pleasant, a need with implications for the world's greatest freshwater resource.
— Scott Gordon, Aug. 3
September: How To Harvest And Process Wisconsin's Edible Tree Nuts
Following best practices can help harvesters squirrel away more filberts, hickory nuts and other tree treats in autumn.
— Vijai Pandian, Sept. 22
October: How Foxconn Can Turn On The Faucet In Mount Pleasant
The decision by Foxconn to locate an LCD manufacturing plant in the Racine County community of Mount Pleasant highlights the importance of access to a water supply and corresponding infrastructure.
— Scott Gordon, Oct. 4
November: Where Cows and Deer Outnumber People In Wisconsin
The ratios of cows and deer per person across the state is one gauge for defining how rural or urban a given county might be considered.
— Malia Jones, Casey Kalman and Caitlin McKown, Nov. 17
December: How To Keep Rosemary Plants Fresh And Vibrant Throughout The Winter
A popular herb requires very specific conditions when grown indoors in a container.
— Vijai Pandian, Dec. 18
This report was produced in a partnership between PBS Wisconsin and Wisconsin Public Radio. © Copyright 2023, Wisconsin Educational Communications Board and the University of Wisconsin-Madison.