Face Masks, Wisconsin's Pandemic Politics And The Limits Of Persuasion
Why Public Health Efforts Are One More Lightning Rod In The Polarized COVID-19 Era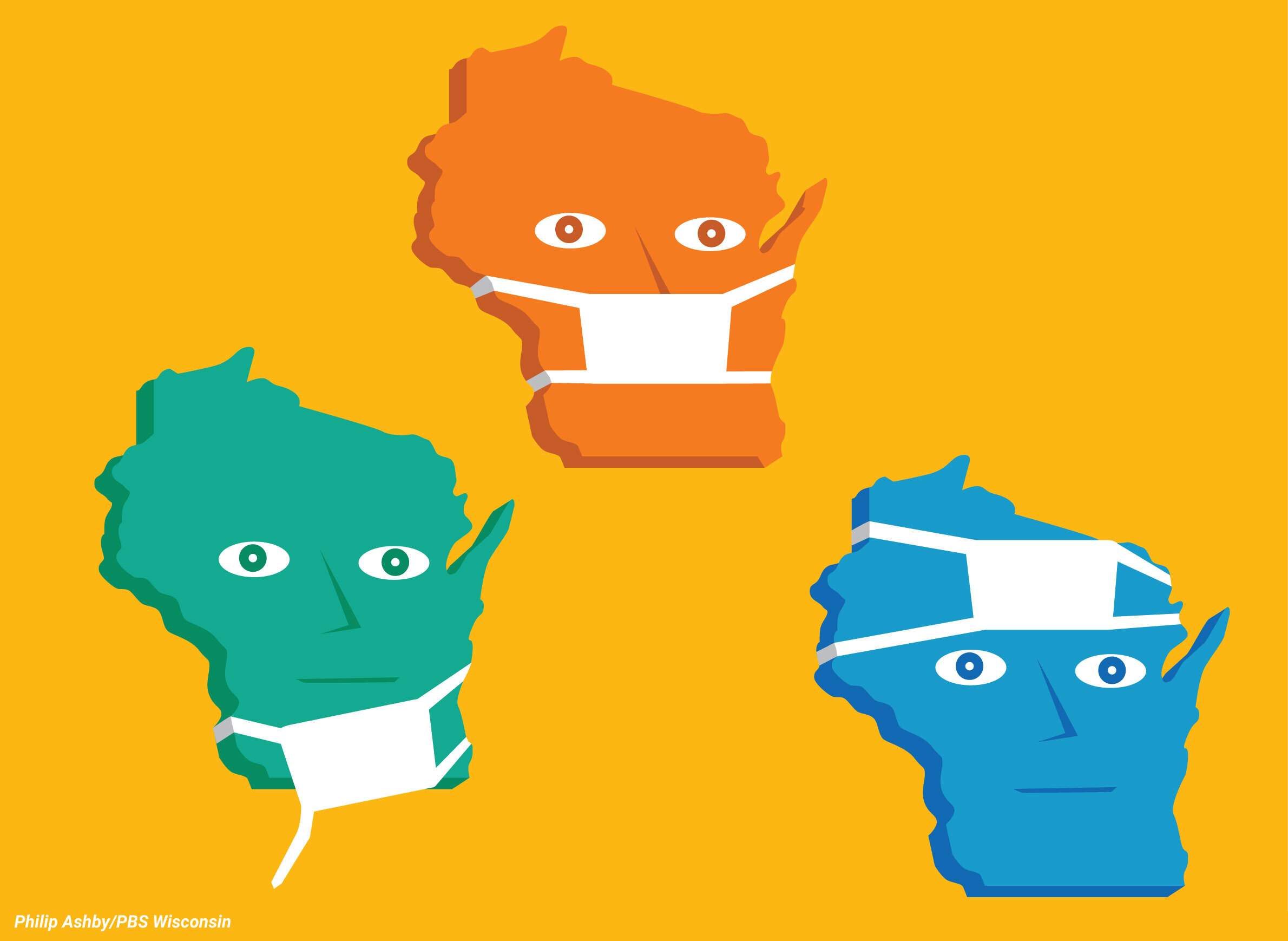 Katie Guzman-Rhea lives in the tiny hamlet of Danbury, tucked beside the St. Croix River in a forested stretch of northwest Wisconsin dotted with lakes and small farms. The 27-year-old is skilled with a sewing machine and considers herself a proactive and pragmatic woman, so when Wisconsin's first case of COVID-19 was diagnosed, she sprang into action.
"I started making face masks in early February," said Guzman-Rhea, when the state's only reported case was identified hundreds of miles away in Dane County. That was months before the international public health community came to a consensus on the usefulness of masks in limiting the spread of COVID-19.
At first, Guzman-Rhea sewed masks for her family, but as cases started to be identified across the state later in March, she connected online with other Wisconsinites who, like herself, were itching to feel productive. They were motivated to contribute to an urgent need during a period of deep uncertainty and stress that left many Wisconsin residents homebound and feeling helpless.
Guzman-Rhea quickly found herself organizing a regional crew of crafters as part of a massive statewide group that has coordinated the donation of hundreds of thousands of homemade masks to frontline workers since February. She recruited volunteers from local faith congregations and solicited donations from businesses. She also secured the Meenon town hall about 15 minutes south of Danbury to serve as an operations base for distributing masks across a wide swath of northern and western Wisconsin.
"I'm very outspoken when it comes to something I'm passionate about," Guzman-Rhea said. "So I was stopping in churches, going to bars, stopping at stores, putting up fliers."
Her zeal was not universally welcomed.
Beginning in May, Guzman-Rhea said individuals she did not know began stopping by the town hall and making phone calls to demand that she cease her volunteer work.
"They said I was hurting people and that the masks were just causing them to get sicker," Guzman-Rhea said, describing claims with no factual basis that seemed instead to be rooted in anxiety and fear.
The harassment escalated into threats of violence, according to Guzman-Rhea, and culminated in a disturbing encounter at the town hall.
While Guzman-Rhea was alone in the building, she said three strangers — two men and a woman — entered through the front door while a fourth individual she did not recognize waited in a car outside.
"They proceeded to threaten my family," she said of the three individuals who confronted her. "They said they were going to firebomb my house, as well as my vehicle [and] the town hall" if she continued her mask work.
Guzman-Rhea said she reported earlier instances of harassment to the Burnett County Sheriff's Office. The agency confirmed that a deputy fielded a call from Guzman-Rhea on May 28 during which she described being harassed for her mask work and made a request for increased patrols past the town hall so she would feel safer working there — something she often did alone.
But now that the threats were extending to her family, Guzman-Rhea decided she needed to lower her profile. She informed organizers of the statewide group that she would be stepping back from her responsibilities, though she quietly kept on collecting, making and distributing masks out of her home.
And yet, Guzman-Rhea said she continued to receive threatening phone calls at her home through the end of July, just before Gov. Tony Evers issued an emergency order mandating the wearing of face masks in indoor public places across the state.
A number of sheriffs with jurisdictions across Wisconsin responded to the mandate by announcing they would not enforce it for various reasons, even as the Evers administration asserted that local authorities can and should enforce it. They included Burnett County Sheriff Tracy Finch, who indicated her department was too busy to do so.
Despite the harassment, which has abated since the statewide mask mandate took effect, Guzman-Rhea is more sure than ever that face masks can help keep her family and community safe as Wisconsin continues to rack up hundreds of new cases of COVID-19 on a daily basis.
Public health officials in Wisconsin are still working on convincing others to take mask guidance seriously, as well as reassessing how they communicate about complicated public health evidence as it shifts in response to new scientific research into a new disease.
The politics of public health in 2020
Katie Guzman-Rhea's experiences speak to one effect of a historically disruptive global pandemic unfolding during an era of deep social and political divisions and widespread distrust in American institutions: a swift and fierce politicization of public health.
"This pandemic was politicized immediately," said Sharon Dunwoody, a professor emerita in the University of Wisconsin-Madison School of Journalism and Mass Communication. Dunwoody has researched media's role in shaping how people understand and engage with science.
Dunwoody contrasted the rapid politicization of the COVID-19 pandemic from other instances where scientific evidence has become the subject of bitter political debate over longer periods of time — topics like climate change and vaccines.
"What happened with the pandemic is that right out of the chute politicians were major sources of information," Dunwoody said.
Dunwoody highlighted the role of President Donald Trump, whose early and dominating presence in the public dialogue surrounding COVID-19 in the United States often minimized or contradicted guidance coming from the federal government's non-partisan public health officials and scientists. A notorious example of this dynamic arose in late April when the president suggested during a briefing by the White House coronavirus task force that injecting patients with bleach could be helpful — it is not, and can in fact kill patients.
"There was no moment when this pandemic was strictly a science-slash-health issue," Dunwoody said. "And so because we are a nation of tribes at this point, there was an immediate allegiance to different tribal interpretations of what's going on."
One of these contentions, fueled at times by the president and like-minded politicians, has doubted health risks of COVID-19 and asserted public health orders like mask mandates are unnecessary government overreach or, for the conspiracy-minded, thinly veiled attempts at controlling the population simply for control's sake. At the very least, Dunwoody said the political aspects of the pandemic in the U.S. have fed misgivings toward scientists and the policymakers who rely on their recommendations.
"From day one, I think we would have had a significant number of people who would be uninterested in scientific recommendations about behavior," Dunwoody said.
Indeed, survey data collected by the polling firm Dynata in early July for the New York Times showed low rates of mask-wearing across much of Wisconsin some three months after the Centers for Disease Control and Prevention recommended their use in public places among all people.
Mask-wearing rates varied widely between Wisconsin communities in July, according to survey results based on self-reported behavior.
At the county level, the Madison area and summer home destinations like Door County and parts of the Northwoods had the state's highest rates of mask-wearing, with 62-64% of those surveyed saying they "always" wear a mask in public when other people are close at hand. Rural parts of central Wisconsin and suburban areas west and north of Milwaukee had among the lowest rates in the state, with the percent saying they 'always' wear a mask in public ranging from roughly 21-36%.
The Pew Research Center polled Americans about masks in August. While Pew's results don't offer quite a state-level or local glimpse of mask-wearing rates, they show growth across the U.S. in the percentage of people saying they wear masks in public. That figure increased by 19% between July and August in a region encompassing Wisconsin, Illinois, Michigan, Indiana and Ohio.
A patchwork of face mask policies implemented by businesses, local public health departments and elected officials left Wisconsinites to navigate all manner of social interactions without a clear cultural consensus about where and when they should wear masks.
Incidents across the nation, including one in which a security guard was shot and killed after attempting to enforce a mask requirement at a retail store in Michigan, may have been behind some of the initial reticence to mandate masks. But other forces were also in play in Wisconsin. Chief among them was the seemingly intractable political standoff between Gov. Tony Evers, a Democrat, and the state Legislature, which is controlled by Republicans.
The hostilities boiled over in April when legislative Republicans sued the Evers administration over its stay-at-home order extension meant to short-circuit growing COVID-19 transmission in the state. The state's third branch of government entered the political fray when, in a decision largely split along ideological lines, four out of seven justices on the Wisconsin Supreme Court ruled to overturn Evers' order. During arguments, Justice Rebecca Bradley characterized the state's actions as "tyranny" and likened the order to the internment of Japanese Americans during World War II.
After weeks of citing the state Supreme Court's decision and concerns over inviting another lawsuit from Republicans to explain why it was not mandating masks statewide, the Evers administration eventually reversed course on July 30.
The announcement came a day after Dr. Ryan Westergaard, the state's chief epidemiologist for communicable diseases, told WisContext in an interview that he supported local mask mandates enacted in Milwaukee, Dane County, Green Bay and other jurisdictions, and would enthusiastically get behind a statewide mandate. Westergaard said he based his support on scientific evidence.
"The science definitely supports large numbers of people wearing masks as a means of reducing transmission, so in that regard I'm fully supportive," he said.
But Westergaard and other public health officials in Wisconsin did not advocate wearing face masks very early in the pandemic.
The scientific process
In February, while Katie Guzman-Rhea was starting to fashion face masks in Burnett County, some health officials in Madison were less enthusiastic about the role of masks in preventing transmission of COVID-19.
But evidence researchers are gathering on how the coronavirus infects — and doesn't — within households and around communities is increasingly showing that masks are a useful and much less disruptive tool than lockdowns or business closures for limiting the spread of COVID-19. In turn, Wisconsinites across the state have been heeding the updated guidance to various degrees.
In February and March, healthcare workers were experiencing dangerous shortages of medical-grade masks right as COVID-19 was taking hold in the U.S. Global supply chains were buckling under consumer pressure, as well as logistical barriers caused by China's economic shutdown.
Mask shortages were only one reason officials like Dr. Nasia Safdar, chief of infection control for UW Health's University Hospital, were at the time arguing against healthy people from wearing masks. That guidance was based not so much on evidence, but a lack of it.
"There was a lot we didn't know about the virus, and now six months into the pandemic we have learned a lot more," Safdar said. "The main thing that we have learned that we didn't know the scope of before is that people without symptoms are capable of transmitting infection."
The realization that seemingly healthy people — both those who are truly asymptomatic throughout the course of their infection and others who are infectious prior to feeling symptoms — could transmit the virus was a game-changer, Safdar said. In early April, the CDC updated its mask guidance to recommend that Americans wear non-medical cloth face coverings in public.
The move came on as the agency published a scientific report on an outbreak in a Seattle-area nursing home that documented cases of asymptomatic and presymptomatic infections.
Since then, evidence has poured in from around the world that COVID-19 transmission slows in communities where face masks are widely worn. Among the strongest evidence is a peer-reviewed report and published on June 27 in the medical science journal The Lancet.
The paper's authors analyzed more than 200 COVID-19 scientific studies from around the world. Specifically, they looked at research that gauged the impact of physical distancing, face masks and eye protection to prevent transmission of SARS-CoV-2, the virus that causes COVID-19.
"Face mask use could result in a large reduction in risk of infection," the authors wrote. The most effective way to control transmission, they noted, is physical distancing.
A much more limited study published by the CDC in July offers vivid anecdotal evidence of the protective power of face masks. That report looked at a case in Springfield, Missouri, where two hair stylists saw 139 clients while experiencing symptomatic COVID-19 infections. Despite their symptoms, the stylists did not pass the infection to any of their clients.
Doctors and scientists who studied the case determined the lack of transmission was very likely due to the stylists wearing face masks properly and in accordance with a local public health mandate and the salon's policy.
Dr. Ryan Westergaard, the state epidemiologist, also noted experimental research that shows multi-layer cloth face coverings when fitted tightly around a wearer's nose and mouth significantly reduce the amount of mucus and saliva flying through the air when someone talks, sneezes or coughs.
"It became clear that simple cloth face coverings would decrease the likelihood that infectious particles would escape into the air," Westergaard said.
At the same time, a tsunami of COVID-19 studies are being published online prior to vetting through the typical peer-review process. This flood can make it difficult for people who lack the scientific experience or proficiency to gauge whether a specific study's findings pass a sniff test.
A recent example arose when the results of a small experiment showed that some face masks, in particular neck gaiters and bandanas, may provide less protection against COVID-19 than not wearing a mask at all. The buzzy study received a widely shared writeup in the Washington Post before subsequent reporting explained the study's shortcomings and highlighted newer research showing that neck gaiters appear to work just as fine as other homemade cloth masks.
Either way, the scientific evidence is clear, as underscored by a former CDC director: Masks, when properly worn, help control COVID-19 transmission.
Power of persuasion
Despite solid evidence that properly worn face masks can help slow the spread of COVID-19, apathy and defiance continues, especially when it comes to policies mandating their use. A Marquette Law School Poll released Aug. 11 revealed that nearly a third of Wisconsin residents surveyed did not support the statewide mask requirements.
On the flipside, 69% of Wisconsinites surveyed supported the mandate. A two-thirds majority may amount to formidable political support in a winner-takes-all system, but in the COVID-19 arena where a super-spreading event can result in thousands of infections from a single source, it's not as reassuring.
"We've got a lot of work to do," said Dr. Ryan Westergaard when asked about how public health officials in Wisconsin are working to win over masking holdouts.
"We have a lot of education [to do] ... to help people understand and make decisions that are going to result in a lower risk of viral transmission," he said.
Katie Turkiewicz, a professor of communication at the University of Wisconsin-Green Bay and expert in health communication campaigns, agreed with this assessment.
"I think the primary issue is education," Turkiewicz said. "Getting people to understand and embrace the scientific data and research that we have that supports mask wearing."
Turkiewicz has seen a lot of what she considers to be effective educational material on mask-wearing put out by public health departments and healthcare providers, but also believes the campaigns are at a significant disadvantage due to the initial reluctance in the U.S. to recommend face masks.
"That really hampered us out of the gate," she said.
Dominique Brossard, a science communication professor at UW-Madison, agreed that the mixed messages from American officials were not helpful. Brossard, who is originally from France, contrasted the early guidance about masks with that coming from health officials in Europe, which she said tends to be more cautious in the face of scientific uncertainty than the U.S.
"I think it goes back to some extent to the European way of looking at things," Brossard said. "They said, 'At worst, [wearing masks] doesn't make a difference. At best, it makes a difference. Let's go with that.'"
But Brossard, an expert in communicating about risk and complex and controversial science, is skeptical though that continued education alone will help significantly move the needle on mask use.
"Very often people don't want to [wear one] because it's bothersome, or because you have to think about having a mask with you all time, or because of this or that," said Brossard. "There's all those little inconveniences."
In addition to education, Brossard said officials should do everything they can to lower monetary and psychological barriers to mask use.
Brossard is the lead author of an August 2020 report that provides recommendations for encouraging people to wear masks and take other protective measures to slow the spread of COVID-19. The report says masks should be easily accessible for anyone, regardless of their ability to purchase them, and suggests encouraging options that are both functional and fashionable, or at the very least allow wearers to express themselves with personalized messages or styling.
Brossard and Turkiewicz agreed that health officials would do well to reconsider how they talk about masks. Turkiewicz said the notions of power and control are deeply intertwined with COVID-19 — the power of public health officials and governments to impose lockdowns and mask mandates, as well as feelings of personal powerlessness and loss of control in the face of a deadly new disease.
"A lot of people who are resistant to masks or focusing more on the politics of masks are reluctant to relinquish personal power and personal control," Turkiewicz said. "So reframing the messaging as 'You're not losing power or control, your demonstrating your power and your control to limit the spread by using masks' would be one way you could approach it."
Brossard suggested discussing masks as an economic issue since effective mask-wearing could help preclude further economic disruption through lockdowns. She pointed to a June 2020 analysis by the Wall Street firm Goldman Sachs that attempted to quantify the impact of mask-wearing on national economies. Further analyses have attempted to determine the actual economic value of a single face mask.
Sharon Dunwoody, the retired UW-Madison journalism professor, said if nothing else, mask supporters should refrain from shaming people who don't wear masks.
"Shaming just invites reaction," Dunwoody said, adding that people who get annoyed with others who are not wearing masks should focus on "positive modeling behavior" by making sure they are properly wearing masks themselves.
"Modeling is a great way to accomplish what shaming can't do," she said.
Making masks 'normal'
Gov. Tony Evers and officials in his administration appear to be attempting to win over mask skeptics by modeling. They've conspicuously worn face masks in nearly all public appearances since the state's mandate took effect.
Modeling can help shift social norms — the unofficial set of rules and etiquette people practice in public. In this way, since the president typically does not wear a mask himself — with some exceptions — nor require masks at campaign events, his actions could hamper efforts to make mask-wearing a socially acceptable behavior among his supporters.
The COVID-19 pandemic and differing national responses to it have laid bare differences in social norms across the world. During the pandemic's early days when COVID-19 was still mostly confined to China, citizens and political leaders there were quick to start wearing masks in public. That's likely because wearing masks during cold and flu season is already an ingrained social norm in China and other nations around eastern Asia. Prior to 2020, that was decidedly not the case in the U.S.
But American norms around mask-wearing may be shifting, though perhaps not as quickly or as strongly as would be required to halt COVID-19 to a greater degree. And while early evidence indicates that mask mandates and other protective measures have likely contributed to declining COVID-19 case counts in communities around the nation, it remains unclear whether mandates can help convince staunch mask opponents or those who are simply apathetic.
To that end, Dr. Ryan Westergaard said he's sure mandates make some people more entrenched in their opposition to masks, or at least at being told what to do.
"But is it on the average going to lead to more people feeling like masks are the normal accepted thing to do?" Westergaard asked. "That's the question that we need evidence to answer."
Opponents of Wisconsin's mask mandate include many legislative Republicans. At the time Gov. Evers announced the requirement, Senate Majority Leader Scott Fitzgerald said Republicans in the Wisconsin Senate "stand ready to fight back."
However, neither the state Senate nor the Republican-controlled Assembly took any action in the month after the requirement took effect, and queries to Sen. Fitzgerald and Assembly Speaker Robin Vos about any future plans were not answered. But the fate of the order may still wind up being decided by the state's baldly politicized Supreme Court. The Wisconsin Institute for Law and Liberty, a conservative law firm with deep ties to Republicans, filed a lawsuit in late August seeking to strike the order down, and one of the plaintiffs is chairperson of the St. Croix County Republican Party.
In the meantime, Wisconsin health officials have said it's too early to know exactly what effect the mandate has had on COVID-19 transmission in the state.
Back in Burnett County, where cases began climbing in late summer, Katie Guzman-Rhea said she's seen a marked difference in the number of people wearing masks since the mandate took effect.
"The businesses are kind of policing themselves up here," said Guzman-Rhea, who is still working to distribute masks locally even after the statewide mask-making group officially disbanded in early August.
Guzman-Rhea noted that her fiancé's workplace did not start requiring employees to wear masks until after the mandate took effect.
"Since the mask mandate, there's definitely a lot more people wearing masks which is awesome in my opinion because it's going to keep people healthier," she said.
This report was produced in a partnership between PBS Wisconsin and Wisconsin Public Radio. © Copyright 2023, Wisconsin Educational Communications Board and the University of Wisconsin-Madison.