Gaps In The 'Skills Gap' Debate Over Wisconsin Jobs
UW Researcher Argues For A Nuanced Approach To Workforce Training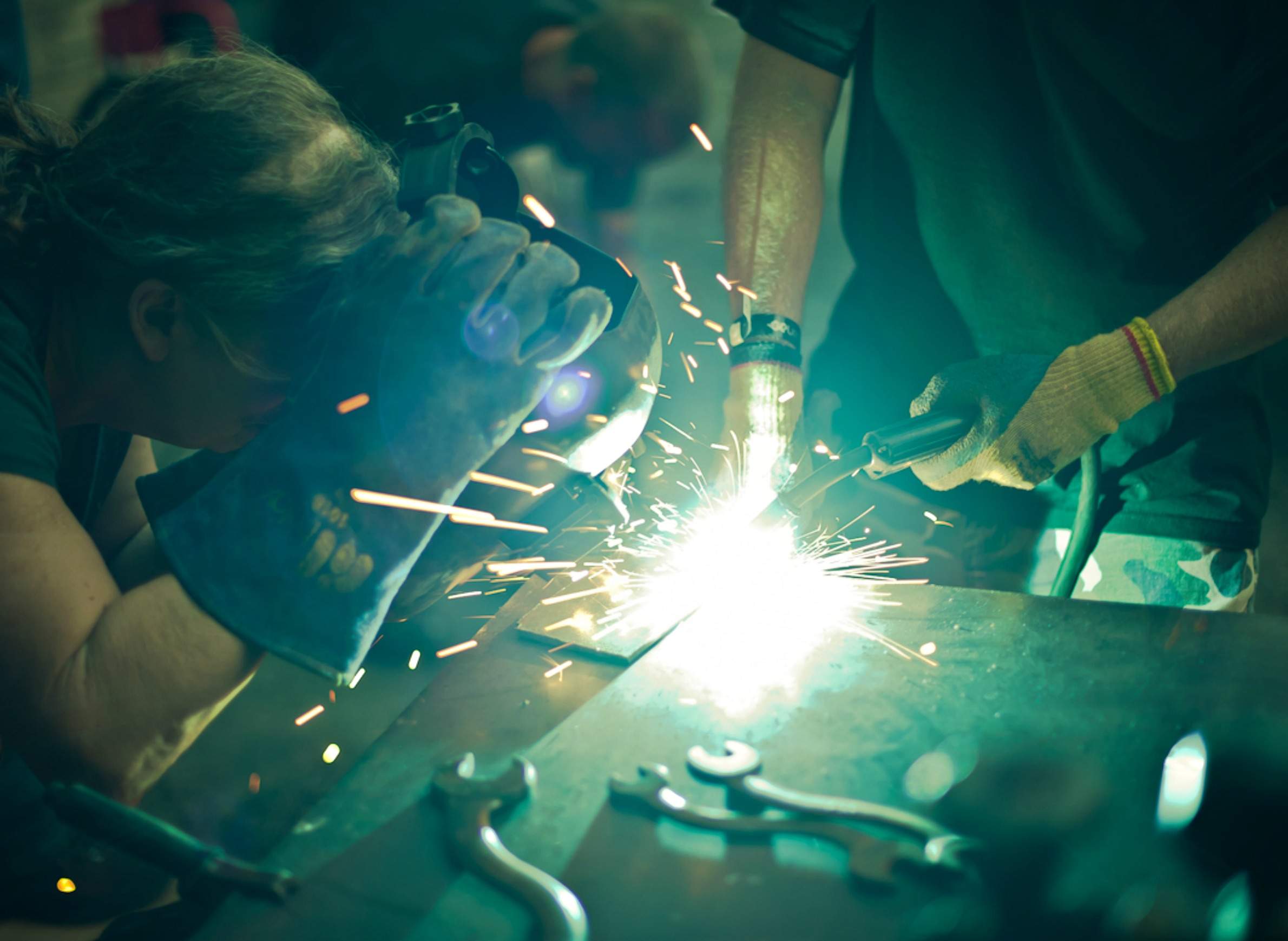 In an economic debate that can devolve into a pitched battle over philosophers and welders, several University of Wisconsin-based researchers believe businesses, policymakers, and educators could strike a balance.
Matthew Hora, a scientist with the Wisconsin Center for Education Research, focuses on the concept of a "skills gap" and how it influences the growing political arguments about the value of liberal-arts education and vocational job training. He co-authored the book Beyond The Skills Gap: Preparing College Students For Life And Work, due out in November 2016 from Harvard Education Press. In the book, Hora and his UW colleagues dissect the prevailing narrative about the skills gap, which goes something like this: Post-secondary education is oriented too much on the humanities and the theoretical side of science, producing graduates without practical and technical skills that employers in manufacturing and the skilled trades desire, resulting in unfilled jobs and sluggish economic growth.
Hora's work doesn't really set out to debunk the idea that employers sometimes have trouble finding what they need in the workforce. He instead seeks to ask more nuanced questions about what employers want, and what kind of education and training employees need. In a March 2015 op-ed for Inside Higher Ed, Hora and his research partners criticized both President Barack Obama and Wisconsin Governor Scott Walker for emphasizing the skills-gap narrative and pushing vocational training as its best solution.
"It's the idea that sluggish job and economic growth is solely due to a failed higher education system — that idea itself has huge gaps," Hora said in an Aug. 26, 2016 interview on Wisconsin Public Television's Here And Now.
For their book and a 2015 policy brief, Hora and his team interviewed dozens of educators at Wisconsin's technical colleges and four-year universities, and dozens more employers at manufacturing and technology companies in the state. The researchers found a host of factors that play a role in what employers look for in their workforce and how they conduct their hiring.
For example, Hora and his collaborators found that an education-based approach could better prepare students for the workforce — not necessarily by replacing humanities courses with vocational training, but by replacing lecture-centered class models with more hands-on learning. They also found that employers value life-long learning and want new graduates to have not just technical know-how but also so-called soft skills, like strong communication abilities, analytical skills, and the capacity to interact with people from different cultural backgrounds in increasingly diverse workplaces.
That said, Hora also has observed that employers are often too reluctant to train new workers. He found that employers often hold out too long in hope of finding candidates who will both hit the ground running and readily conform with the organization's culture. Job recruiters call these elusive candidates "purple squirrels," and while actual purple squirrels have been spotted, they're not to be found in every stack of resumes.
The concept of a skills gap may also present an inaccurate picture of the kinds of jobs out there waiting to be filled. Hora agrees with those who say vocational training and skilled-labor jobs are important, but pointed out that about 23 percent of job openings in Wisconsin right now are for high-skill, high-wage jobs. And even when it comes to welders, training is "not just about giving [employees] a short boot camp in the technical skills of that profession," he said.
Rhetoric that demeans the work of teachers and professors won't be very productive in the long run, Hora added. In fact, his group recommends investing more in teacher training to help spread non-traditional class models (known as blended learning) that offer a hands-on approach to both technical and soft skills. He rejected a recent suggestion by U.S. Senator Ron Johnson, R-Wis., that college professors can be replaced with videos. While not mentioning Johnson by name, Hora said, "Probably the most important thing is a reining back of the rhetoric that is disparaging the teaching profession, both in Wisconsin and across the country, where people talk about professors and teachers being overpaid and underworked, where they can be replaced with MOOCs [massive online open courses] or a set of Kenneth Burns videotapes."
Here And Now also invited officials from the Wisconsin Economic Development Corporation to share their views on these issues, but they declined. While WEDC hasn't offered an official position on a skills gap, the concept is certainly part of the agency's vocabulary. Moreover, a 2012 report conducted by manufacturing advocate Tim Sullivan for Gov. Walker focused on a skills gap, and advocated a sweeping set of educational and tax policy changes for the state. That report attracted a detailed response in the form of a 2013 working paper by Marc C. Levine, a professor and director of the Center for Economic Development at the University of Wisconsin-Milwaukee, who asserted that the concept of a gap is a myth.
But whatever their perspectives on the nature of a skills gap, researchers and policymakers might agree on one thing: To improve the state's economy, policymakers must listen to employers around Wisconsin.
This report was produced in a partnership between PBS Wisconsin and Wisconsin Public Radio. © Copyright 2023, Wisconsin Educational Communications Board and the University of Wisconsin-Madison.